---
ePortfolio Capstone Project

---
Overview
A Canvas ePortfolio is a web page that you create this term that is accessible by you during

and after

this course. Your assignment is to create an ePortfolio in Canvas, with weather information and links that are relevant to your own sports, activities (e.g., hiking), business (e.g., farming), or other interests affected by the weather (see rubric below).

A motivation is that after the course is finished, you will have something useful (in addition to your enhanced weather knowledge) that you can continue to apply to your own sport, activity or business.



Two web pages relate to this ePortfolio assignment

:

The page you are viewing now on the EOAS dept website, which describes the ePortfolio assignment and grading rubrics. This page also has links to instructions and videos showing how you can create an ePortfolio.

From the Canvas "Account" icon (in upper left of Canvas page, under UBC logo), select "ePortfolios" to CREATE your own ePortfolio. The ePortfolio that you create will automatically be given a URL (web address), so that you and others can view it.

Four dates apply to this ePortfolio assignment:
You can start creating your own ePortfolio in the 4th week of spring and fall terms (the second week of the condensed summer term).
Any time before the "ePortfolio

draft

deadline" in roughly the 8th week of spring and fall terms (the 4th week of condensed summer term - see details in the online Schedule), you can finish a semi-final draft ePortfolio and submit your name and ePortfolio URL info via the "ePortfolio submission" survey quiz" in Canvas. You can find this quiz from the Canvas Modules tab, just after the Flying Midterm exam.

You and everyone in the course have one week (spring and fall terms - see Schedule) to view and post constructive PRIVATE comments on other students' ePortfolios in Canvas, if they selected the option to allow other students to see their creations. Please be respectful of your classmates. You do not earn points for offering suggestions to others, but you might want to do it as a courtesy. Also, you might enjoy seeing some of the creations by others in your course, before you revise your own ePortfolio.

Finally, you have one additional week (see Schedule) to use the comments (spring and fall terms) as you wish to improve your own ePortfolio. After that "ePortfolio completion deadline", no more changes to ePortfolios are allowed, because the TAs will start marking them. If you already had submitted your ePortfolio info via the "ePortfolio submission" quiz, there is NO need to submit it again after you make the revisions, because we already have it.

Even if you were unable to submit a draft by the draft deadline, you can still submit an ePortfolio by the final ePortfolio deadline (near the end of term; see the course Schedule for details). Although you are not eligible for the points for submitting the draft ePortfolio by the "draft deadline", you can still earn the rest of the points depending on the quality of your ePortfolio.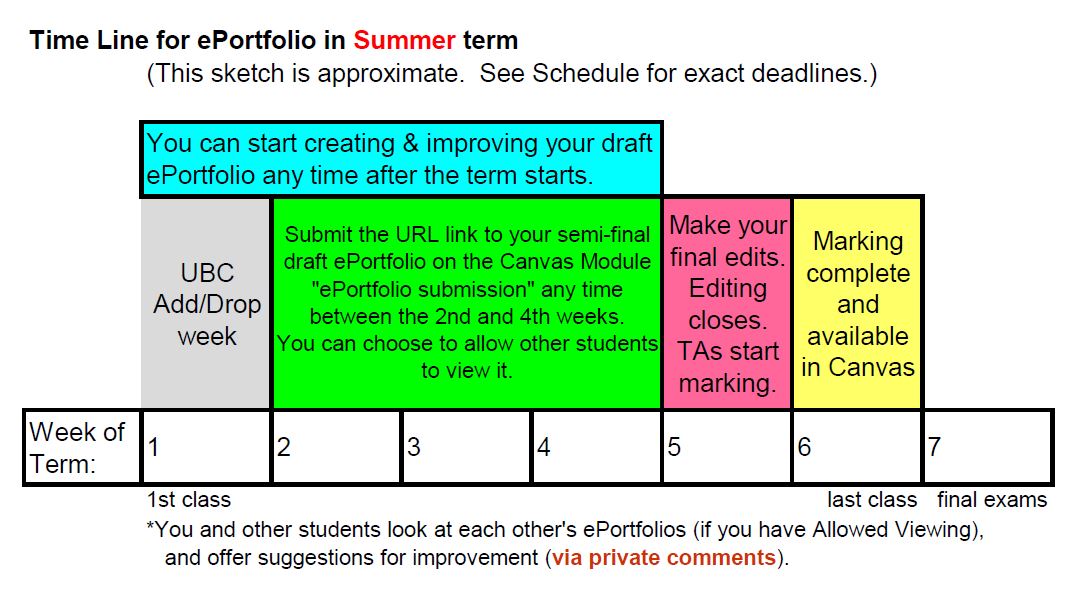 Grading Rubric
The ePortfolio is worth a total of 55 points .

Your ePortfolio should include the following components:

Tips on ePortfolio Creation in Canvas
Log in to Canvas and go to Account > ePortfolios. Click on the button that says "Create an ePortfolio". Set your ePortfolio to Public. See tips for ePortfolio creation at https://community.canvaslms.com/docs/DOC-10597-4212717400
Set your ePortfolio to allow others to provide Comments (to be visible only by you). Namely, although your ePortfolio will be "public", any Comments about your web page will be "private" to be viewed only by you. See tips at https://community.canvaslms.com/docs/DOC-10497-4212717373
To start adding content, add a new section (on the left, click on "Organize Sections"). You can add as many sections as you like. Each section can contain multiple pages (on the right, "Organize/Manage Pages").
For more help on using the Canvas ePortfolio function, you can consult the Canvas "Getting Started Wizard", or watch this video tutorial: https://community.canvaslms.com/videos/1129-eportfolios-students

Fixing Problems: To see how to make your ePortfolio "public" if you forgot to do it when you first created it, see https://community.canvaslms.com/docs/DOC-10597-4212717400 .

Submitting your ePortfolio
Please don't wait to start making your own ePortfolio. You can start early in the term (see timeline image above). Other students have told us that it takes about 2 to 5 hours to create their semi-final draft ePortfolio. See the due dates in the class Schedule that you can find on the course home page.
To include photos or other graphics, go to "Edit This Page" to enter the editor. The click on "Image/File Upload" to find your saved image. It is best to use JPG graphics. Do not attempt to Copy and Paste an image into your text.
After you create your draft ePortfolio, you

MUST

submit the info to us via the "ePortfolio submission" survey quiz, which you can find in the Modules tab just after the Flying midterm.

We will look at this ePortfolios again after the final ePortfolio submission deadline, because most students will edit and improve their draft ePortfolio. You don't need to re-submit your URL, because it doesn't change when you revise your ePortfolio.
Sorry, but we do not accept late ePortfolios after the final ePortfolio deadline.
Use your ePortfolio After the Term Ends
You can access and use your ePortfolio even after the term ends. (I don't know if you can edit it after the term ends.)


---
View the ePortfolios created by students in this course
To protect student privacy, these are viewable only by other students in this course this term, and only if the ePortfolio creator allowed it to be viewable. You can view these draft ePortfolios via the "ePortfolio assignment -- instructions" link, which you can find in the Modules tab just after the Flying midterm. We will update this list periodically, as more students submit their ePortfolios.




---
UBC ATSC 113 Weather for Sailing, Flying & Snow Sports Copyright © 2018-2023 by Roland Stull Last modification: 7 May 2023
.