Deploying ocean-bottom seismometers to study the Queen Charlotte Fault
In the summer of 2021, EOAS Ph.D. student Geena Littel and her supervisor Michael Bostock participated in a research cruise offshore, during which they deployed ocean-bottom seismometers (OBS) offshore the Alaskan panhandle. The work was part of a US-Canada collaborative project to study the Queen Charlotte Fault, which runs offshore Haida Gwaii and extends up to Alaska. The fault system represents the largest seismic hazard to southeastern
Alaska and Canada outside of Cascadia, and in-depth characterization of it will provide a better understanding of the system and insights into hazard assessment and earthquake forecasting.
Over the course of the 10-day research cruise, the science team and technical OBS team deployed 28 ocean-bottom seismometers offshore Prince of Wales Island, Alaska (see map). They worked around the clock to make sure the instruments were deployed in a timely manner. The OBS will stay out for a year recording earthquakes until next year when the researchers will go back to retrieve them.
The research team set sail from Ketchikan, Alaska and returned to port in Seattle, WA on board the Marcus G. Langseth ship. Before they boarded the ship, it was out with a team of scientists and crew who collected multi-channel seismic data along the fault. Multi-channel seismic data acquisition involves using air guns that are towed behind the ship and generate large sound bubbles as the ship moves. These waves propagate through the water and upper crust and are then recorded by sensors towed along by the ship. This allows scientists to generate images of the structure of the upper crust of the oceanic seafloor.
The goal of the project is to study variations in structure along the Queen Charlotte Fault and the relationship with variations in earthquake behavior along the fault. The project was known as TOQUES: Transform Obliquity of the Queen Charlotte Fault and Earthquake Study. This is because the Queen Charlotte Fault becomes progressively more oblique at an angle to the orientation of the prevailing plate motions as one moves from the north along Alaska to Haida Gwaii, where it is the most oblique. This obliquity has caused a large magnitude 7.8 thrust earthquake in 2012 offshore Haida Gwaii. You can visit this website to learn more about the project: https://qcfhazards.net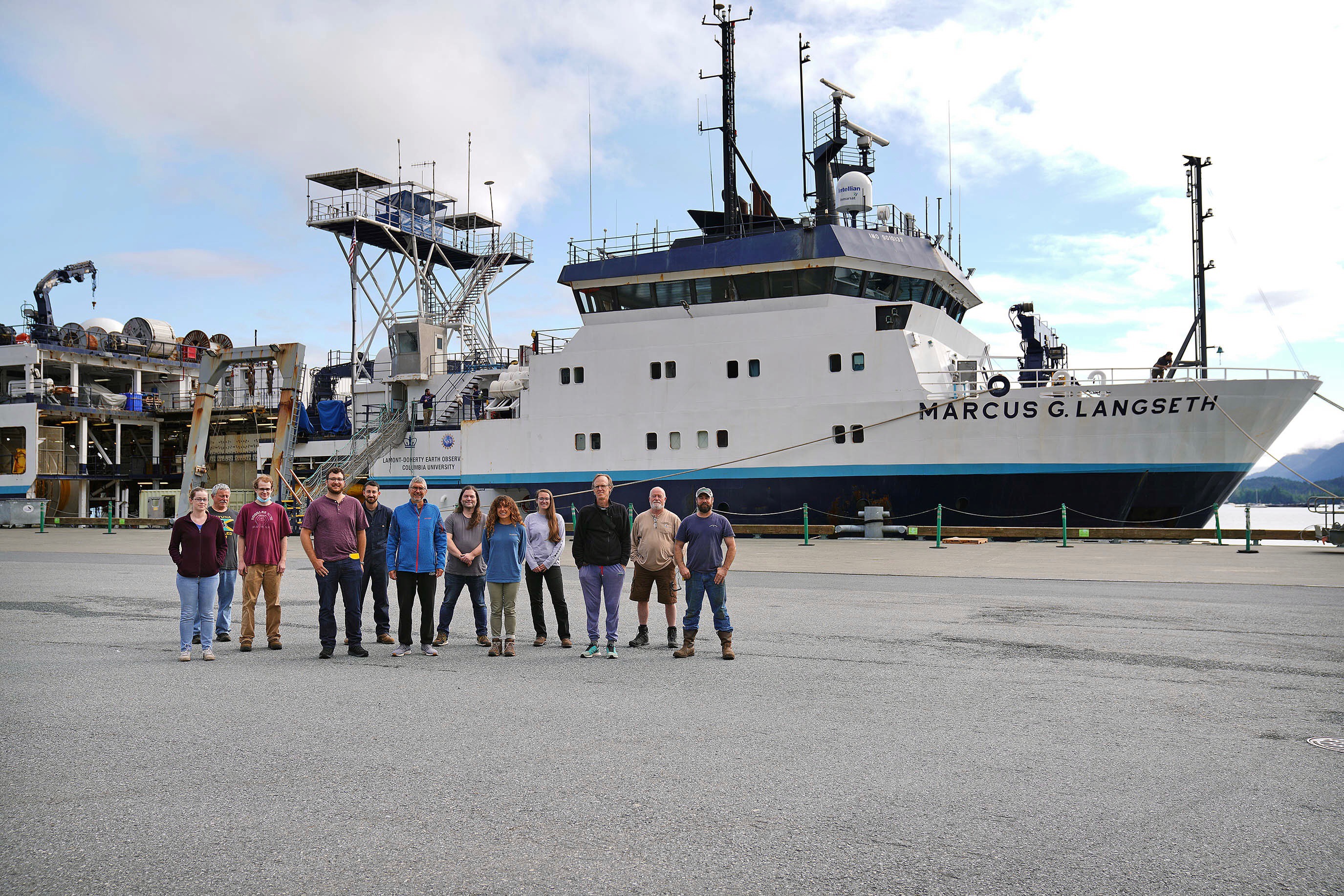 Science team and technical team in front of the Marcus G. Langseth. Pictured: Andrew Barclay, Pete Liljegren, Hannah Brewer, Chris Carchedi, Geena Littel (UBC EOAS), Katie Bosman, Charlie Kleindins, Josh Kassinger, Todd Jensvol, Michael Bostock (UBC EOAS), and Mladen Nedimovic (Dalhousie University). A team of ocean bottom sensor technicians are also on board. Credit: Dustin Safranek