New in EOAS: Lindsay Nelson – Earth Science Educational Field and Laboratory Coordinator
Meet Lindsay Nelson, our Earth Science Educational Field and Laboratory Coordinator! Lindsay started her position in September this year and we are excited to have her in our "New in EOAS" series.
Q: Would you like to tell us a bit about yourself?
LN: I completed a Bachelor's degree in Earth and Planetary Sciences at McGill University. After that, I worked in mineral exploration in northern Canada for about 8 years. I've worked at many different sites for short term projects, but I also spent multiple years on one exploration property eventually doing work such as data integration and geological modeling. I watched the project change and grow to an advanced exploration stage, which was very interesting.
Q: What do you think is the most memorable experience in your career so far?
LN: One of my biggest takeaways from being a geologist is that there is a difference between what you learn about geology in field school or in class – where you are just with your peers – versus when you start working. There is a combination of very different people in a camp; you have not only geologists but also drillers, mechanics, cooks, archaeologists, biologists, and so on. Everyone has different backgrounds and experiences but need to find ways to collaborate and live together. I've been able to get to know people that I probably wouldn't have met in my life outside of the field and you can learn a lot from each other while working together.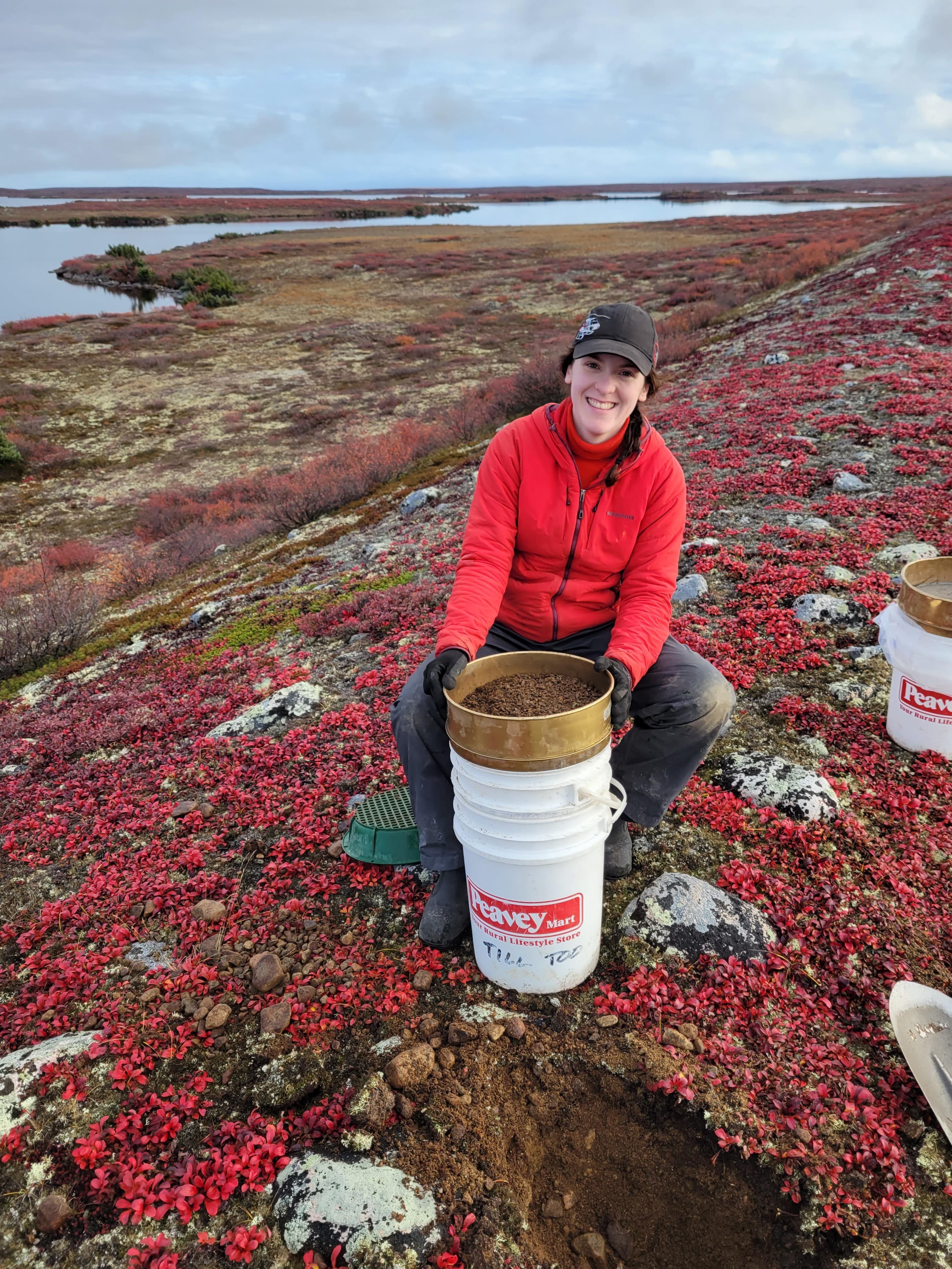 Lindsay collecting samples of glacial sediments in NWT
Q: What drew you to this position?
LN: I saw the position was related to student labs and field schools and was immediately interested. Earth Science training is very special to me because there are so many opportunities for hands-on experiential learning. Lab projects and field trips are what I still remember most about my time as a student, and I was excited about the chance to support students and instructors with these aspects of their programs.
Q: Do you expect that there might be some differences between this position and your previous experience in mineral exploration?
LN: Definitely. There are some transferable skills, such as organization, logistics, communication, data management, and sample collection. However, the university setting is very different from the industry setting. For example, I provided training to other geologists and technicians when I worked in mineral exploration, which is the closest I got to an "educational" experience, but that was usually for a specific job with people who already had a lot of Earth Science knowledge. In EOAS, there are students at many different stages in their education, and that are studying a wide range of subjects, not just geology.
Q: How do you view your role at EOAS?
LN: This is a new position in the department and a new role for me as well, so we are still in the process of figuring out what exactly it involves. It is exciting to figure out how I can best help in this position. I do not have a "typical" work day so far, but I am learning about, for example, what labs are happening this term and what kind of collections we have here. I am also talking with faculty about field trips they are planning and I am helping organize for that. It has been a fairly dynamic position, I would say, as it depends on what courses are running and what they need.
Q: What are you doing this term?
LN: This term my work is more related to the current courses with lab components, and learning about the department in general. I am making sure that the teaching assistants have what they need and that the equipment for labs is working, and tracking samples that are missing. In the longer term, I am planning to get more integration across different sample and equipment collections: find out what samples are available and help share them between courses, etc. I hope there will be more flexibility in the usage of the materials with my organization and coordination. So far, I am starting with basic inventories to familiarize myself with the available collections, since there is so much history and legacy here.
Q: That sounds cool! What is the oldest sample you can find you here?
LN: I do not know about the oldest here, but I found a sample that was collected in 1922. There are also handwritten index cards with all the sample information including sketched maps in some cases. Just recently, I found an Optical Mineralogy textbook from 1933 in one of our teaching labs. It is still kept in the prep room as a reference book because the basic information is still relevant. The collections we have here are amazing and some of them are irreplaceable!
Q: You mentioned organizing field schools in the near future. What do you plan to do?
LN: I've been helping with some of the logistics and safety aspects of trips. The field opportunities are so valuable but there is a lot of work to set them up. The professors and TAs are already very busy, so part of my role is to help facilitate field trips and field courses so that the students can get the most out of these experiences.
Q: What do you hope to achieve in the next few years at EOAS?
LN: One of my ultimate goals is to help students learn well by providing them with a lot of great samples. I want to make it easier for people to know what samples are available in the collections. For the fieldwork side, I want to bring my personal experience as a field geologist to the courses because there are key differences between learning about geology and being a working geologist. I am looking forward to joining the field trips because it is not only always a fun experience, but also an experience for me to keep learning too. Since most of my work was in northern Canada, there's a lot I don't know about the local geology here. I want to not only support these field projects but also learn more as well.
Q: What do you do on the weekend?
LN: I'm into gardening, mostly growing food and flowers. I like to grow plants for pollinators. I also have an interest in soil and soil science, so I've been using that knowledge to improve the soil in my garden. Last year I put in more perennials, as I knew I would be busy in the field during the summer and they're less work than vegetables. That said, I did also grow a lot of different chilis– they did ok even with the cold spring this year!