EOAS 25th Anniversary Gala
On Saturday 26th November 2022, we held a Gala Dinner to celebrate (albeit a little late) the 25th anniversary of the UBC EOAS Department. This event has been over a year in the planning, organised by a driven group of graduate students from our Department: Ruth Moore, Eva Gnegy, Catriona Breasley, Sacchi Pillai and Cara James. With a turnout of around 200 people, including all five Heads of the department, a three-course dinner, celebration cake, speeches and dancing until late in the evening, the event was definitely one to remember. 
For the opening remarks reflecting on the anniversary by Philippe Tortell, Head of EOAS, please scroll down to the bottom or click here.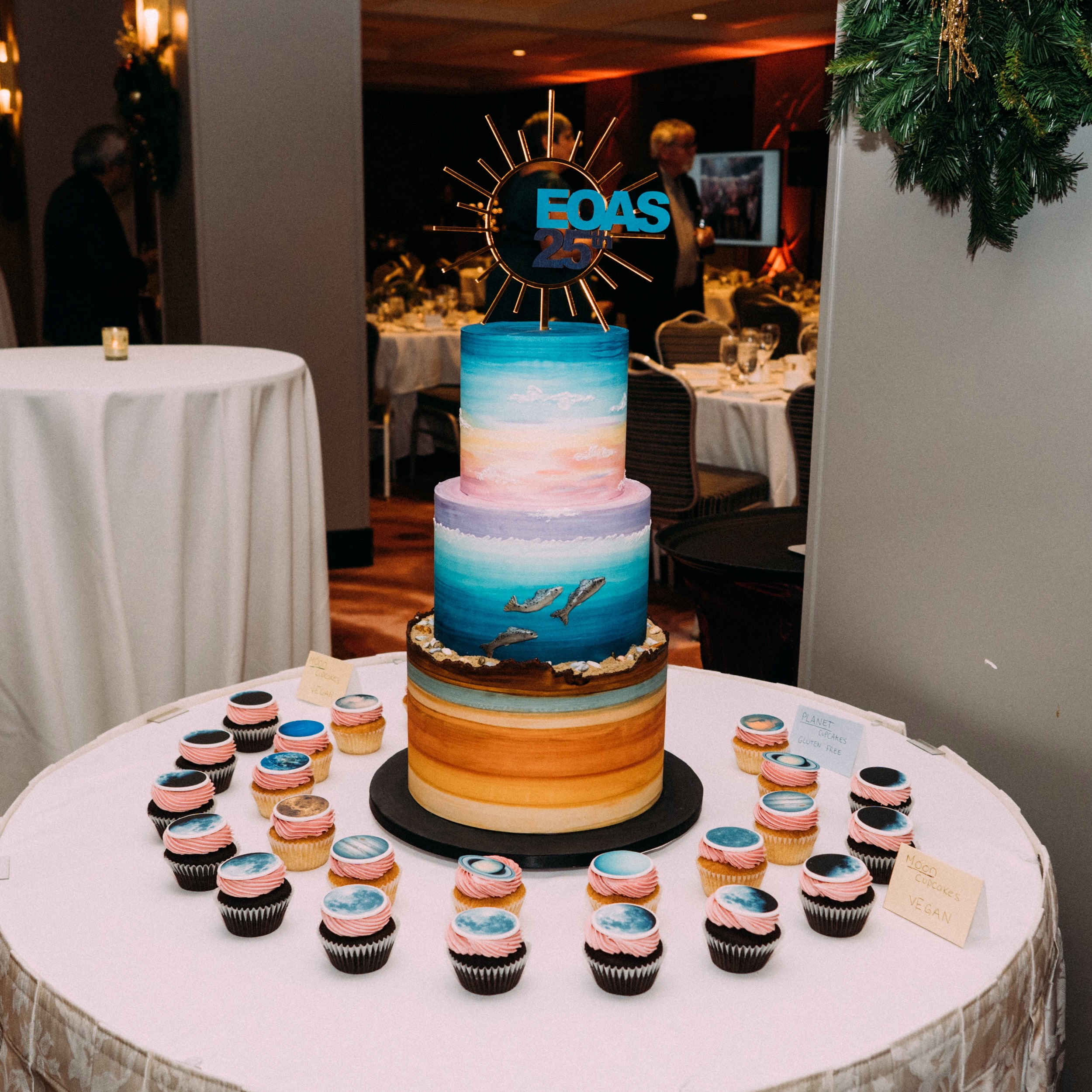 Celebration cake depicting (bottom to top) the Earth, Oceans and Atmosphere. With moon and planet vegan and gluten-free cupcakes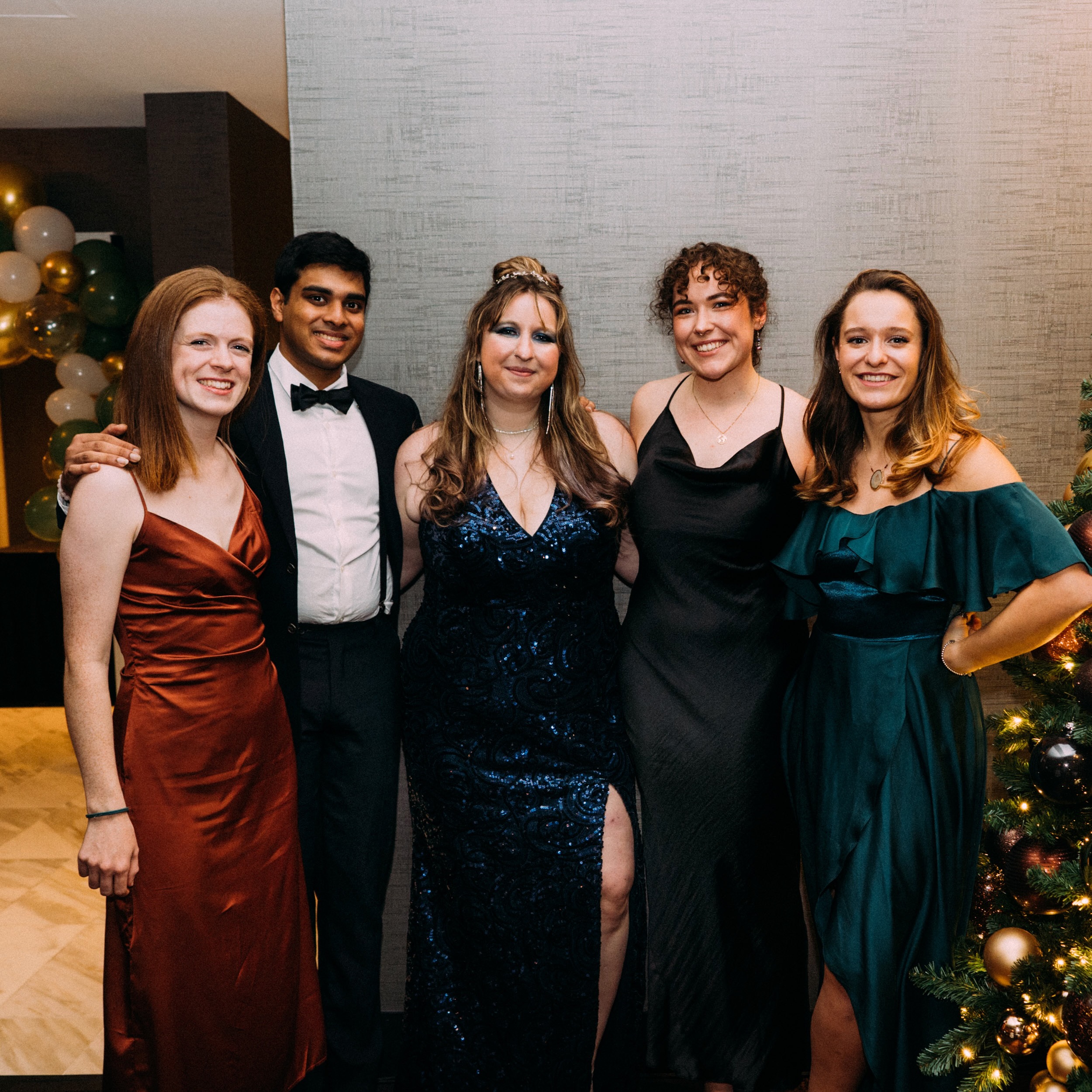 Organising committee, from left to right: Catriona Breasley, Sacchi Pillai, Eva Gnegy, Ruth Moore, Cara James
We started the night with a champagne reception, as faculty, staff and graduate students had a chance to chat to each other outside of the usual laboratory or classroom setting. As everyone found their seats, Philippe Tortell, the current department head, gathered around with the four past holders of the same role (Robert Ellis, Paul Smith, Greg Dipple, Roger Beckie) and welcomed everyone to the event, inviting them to take their seats as the starter was served.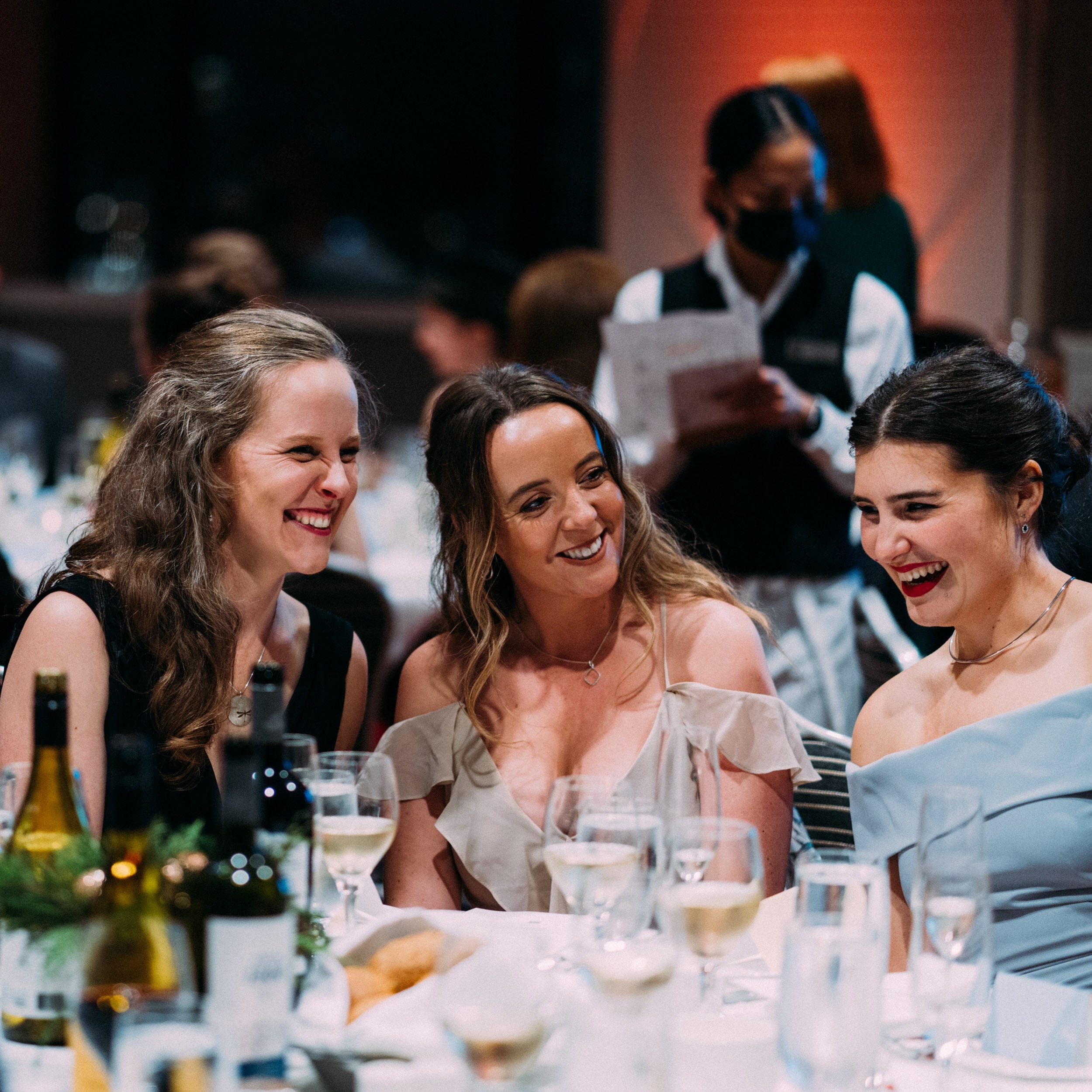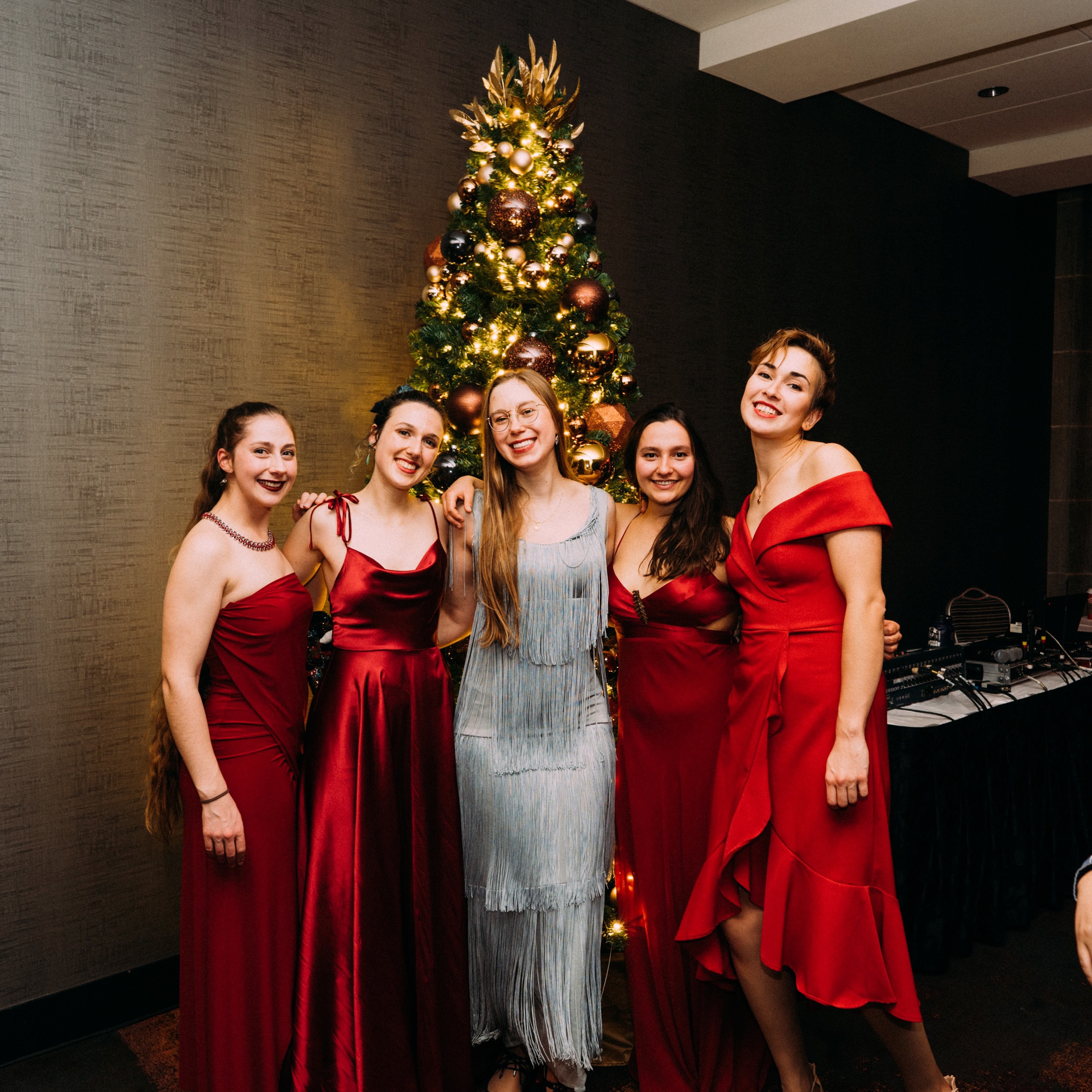 EOAS graduate students pictured enjoying a rare evening spent out of lab coats and fieldwork gear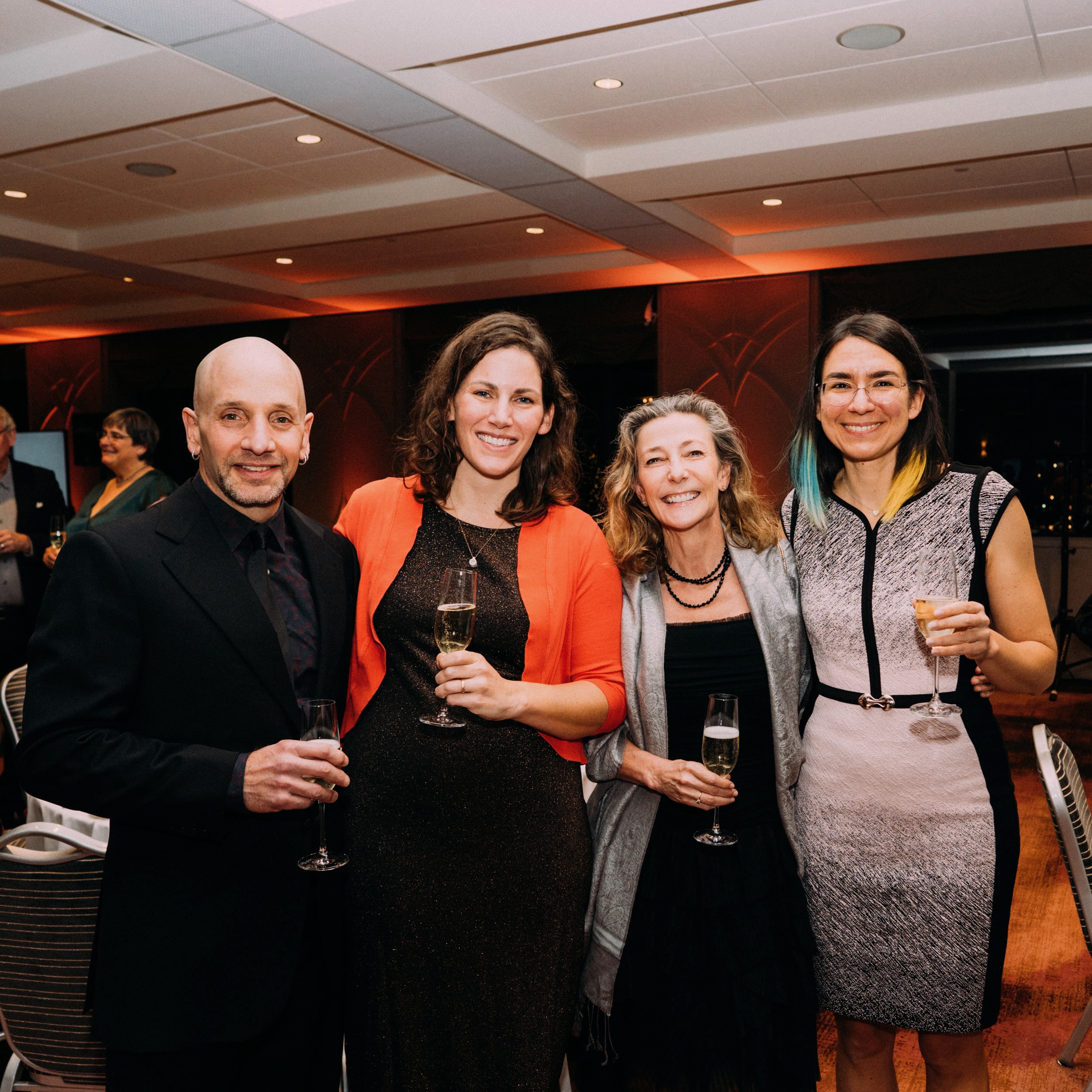 EOAS Faculty (left to right: Mark Jellinek, Kirsten Hodge, Catherine Johnson, Valentina Radić)
Over the course of the next couple of hours, as we dined on plates such as miso roasted ling cod and strawberry mille feuille, we were treated to a range of presentations and speeches that took us through the past, present and future of not only our department but also the field of Earth Sciences in general. Paul Smith, department head from 2000 – 2009, spoke about the tumultuous journey that was taken to design the teaching courses as we see them today, and how the design of our beloved Earth Sciences Building on campus came to be. Philippe Tortell, current department head, talked about the present state of Earth Sciences and the incredible work going on in our department today. Emily Fischer, alumnus of UBC, shared with us a short video about the challenges to come in our field and how she has high hopes for the students in the room. Finally, recent graduate students Katrin Davidsdottir, Julia Jeworrek and Yohan Gilchrist wrapped up the presentations by looking ahead to how we can adapt our research to face these future issues together.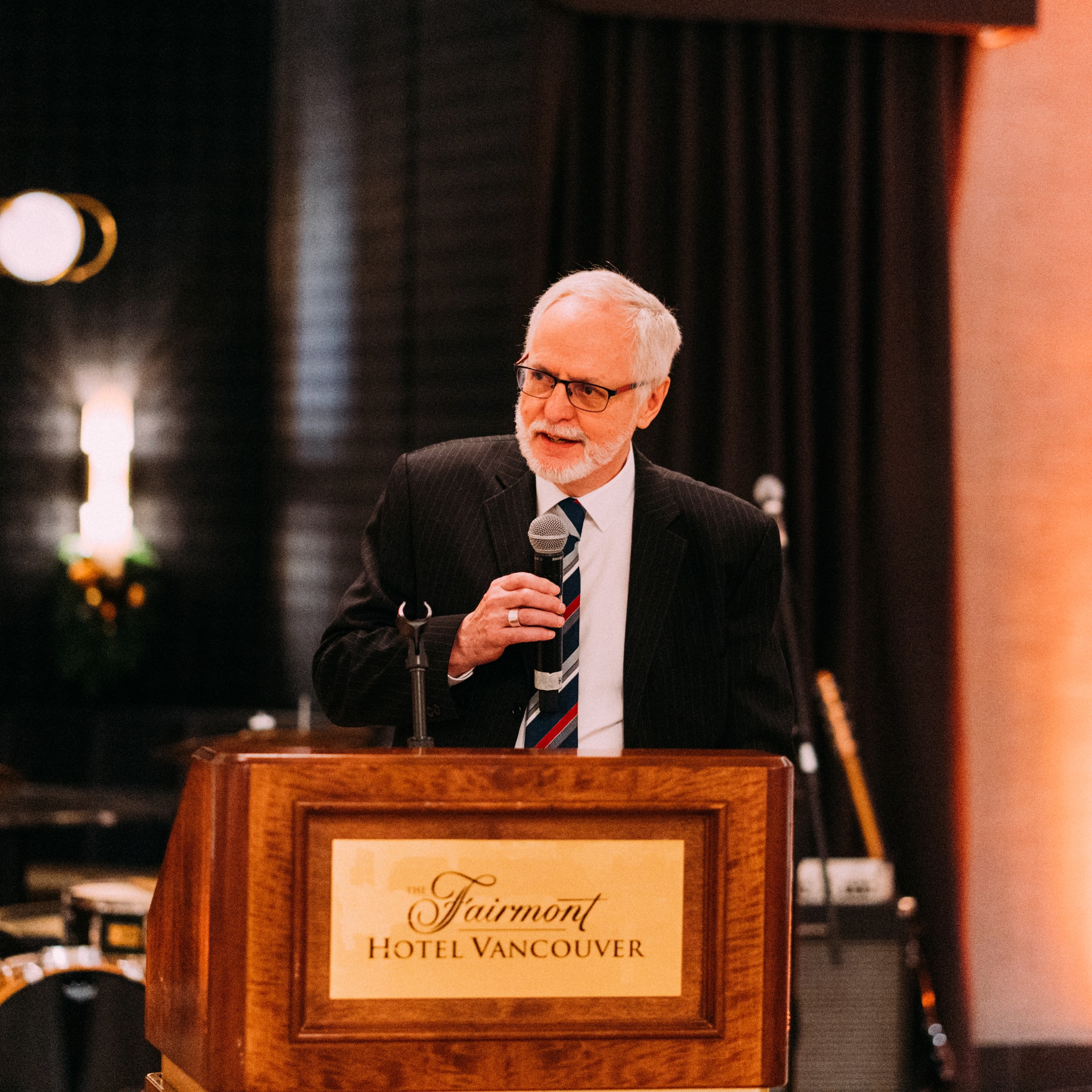 Paul Smith, department head 2000-2009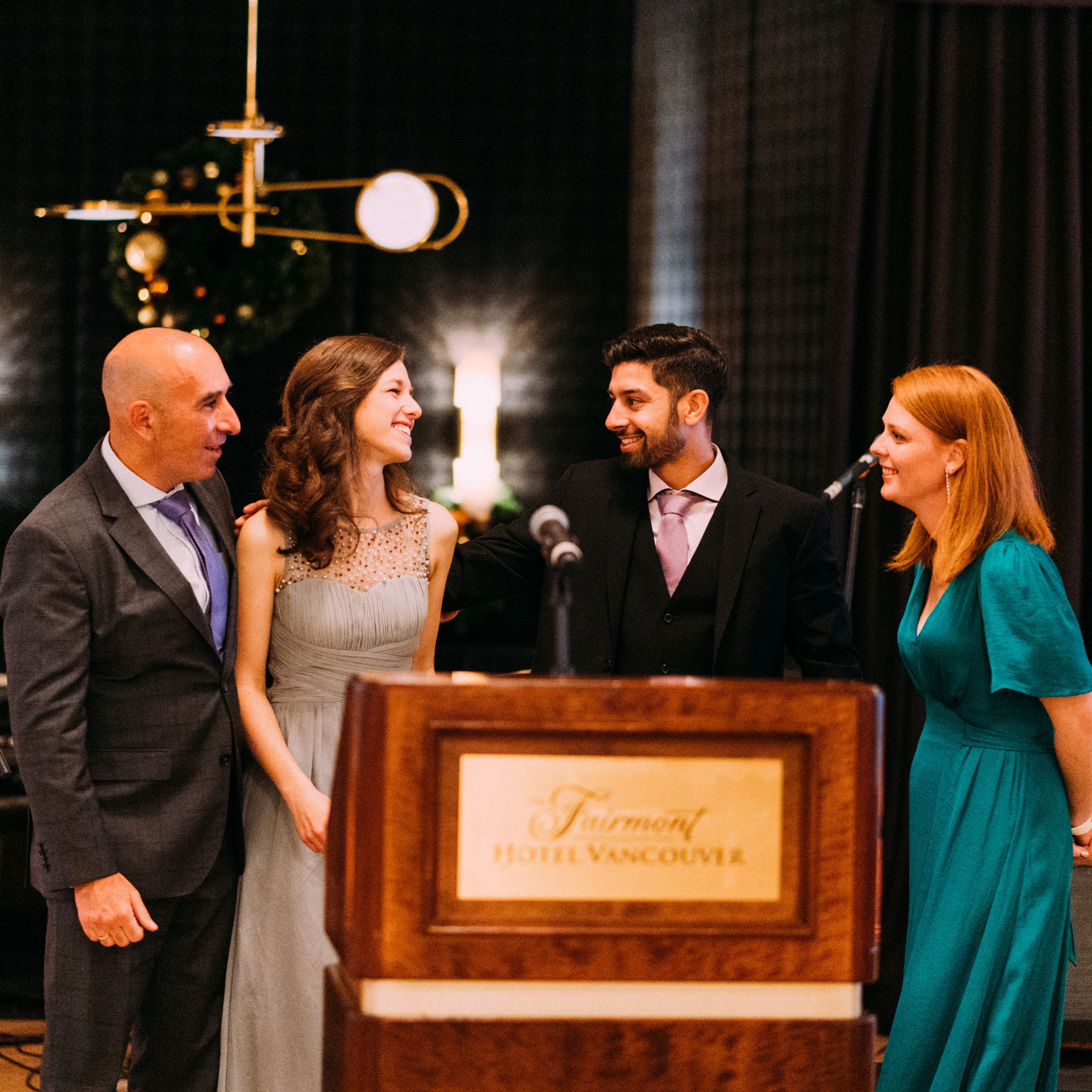 The final presenters for the evening, from left to right, Philippe Tortell, Julia Jeworrek, Johan Gilchrist and Katrin Steinthorsdottir
With the end of the meal came the cutting of the EOAS Celebration Cake, and the band, The Werewolves, started to play covers of hits young and old to please the diverse age range in the crowd. Within minutes the dance floor was full, and essentially stayed that way for the remainder of the night. Who knew Earth Scientists were such keen dancers?!
All-in-all, an incredible night to be remembered, anyone else counting down to the 30th anniversary…?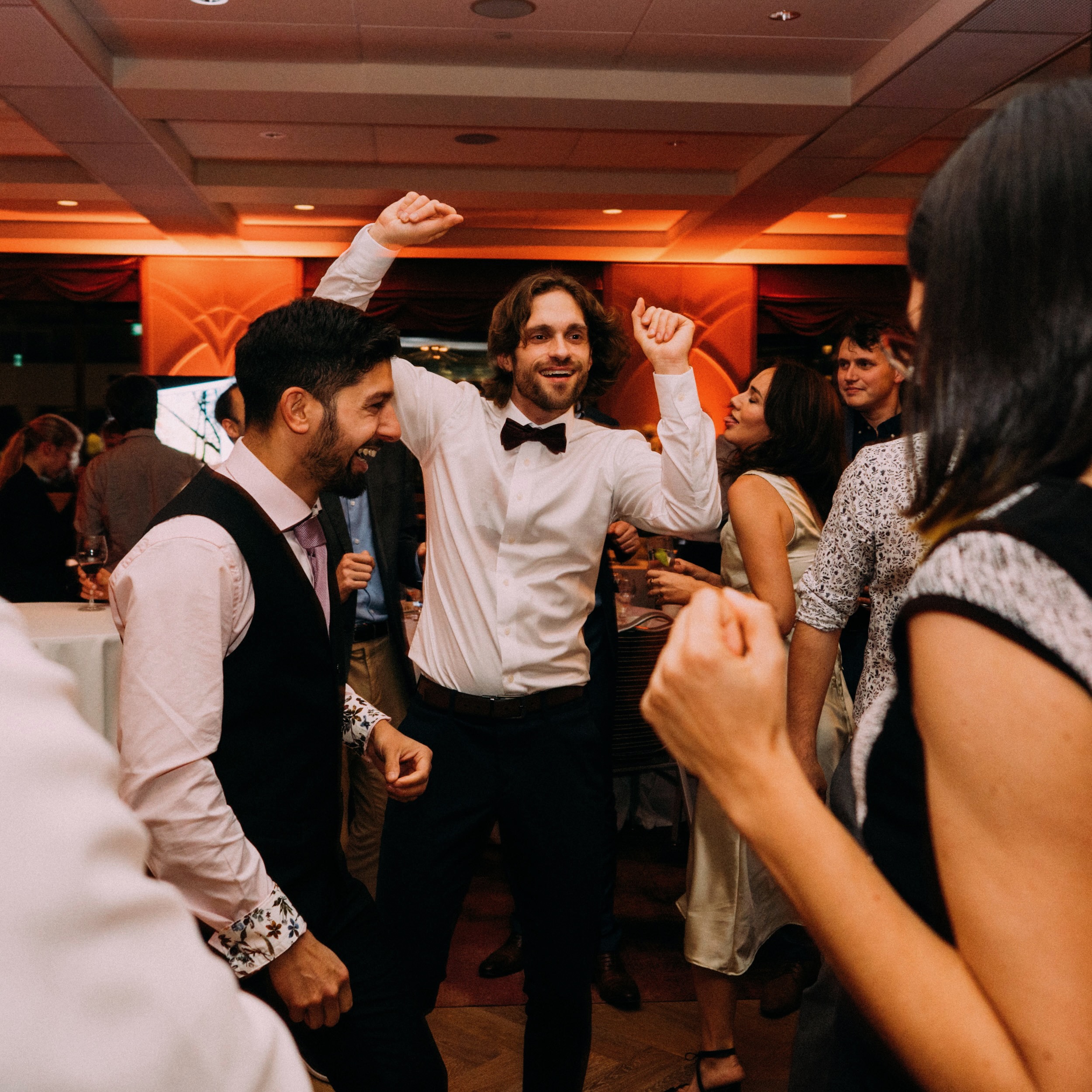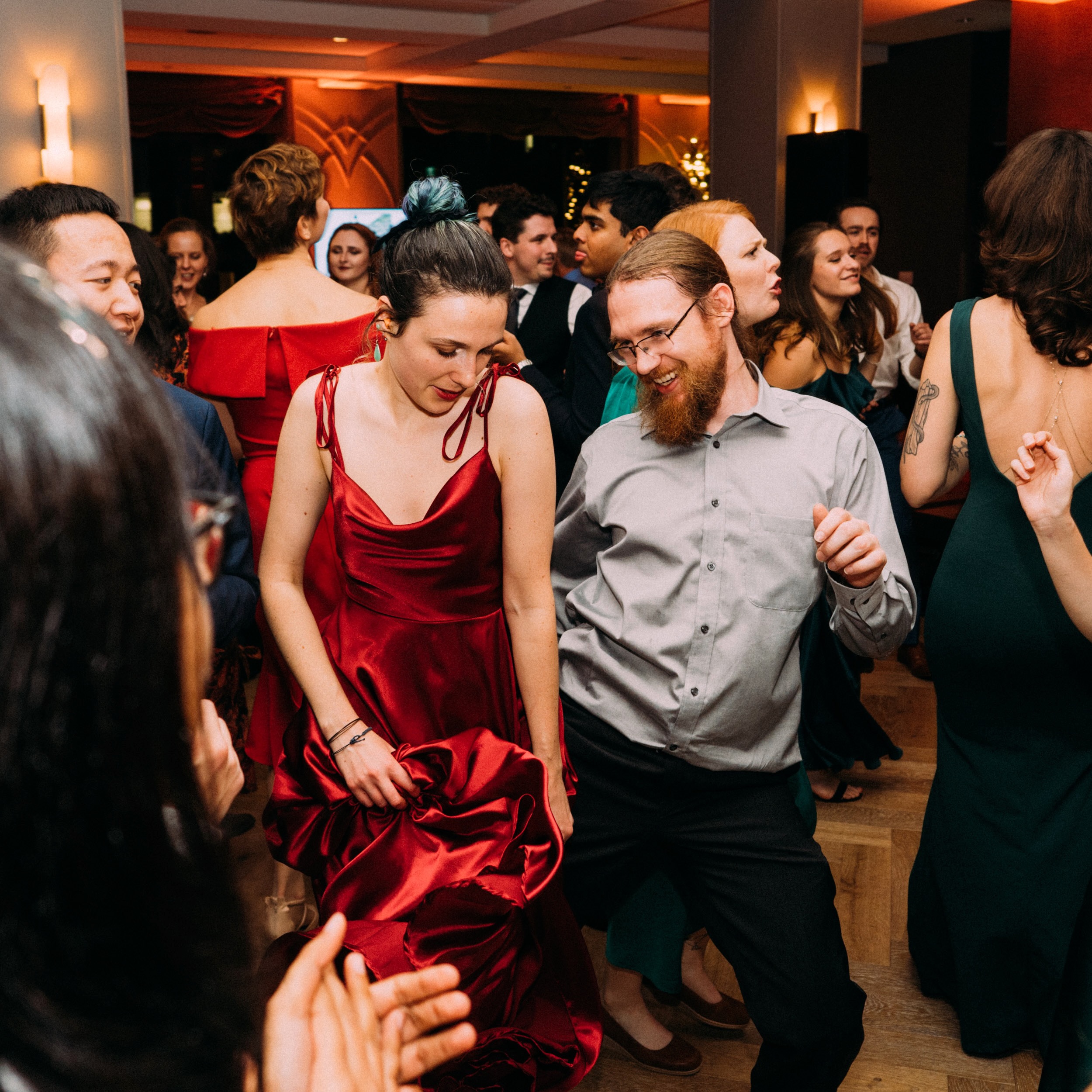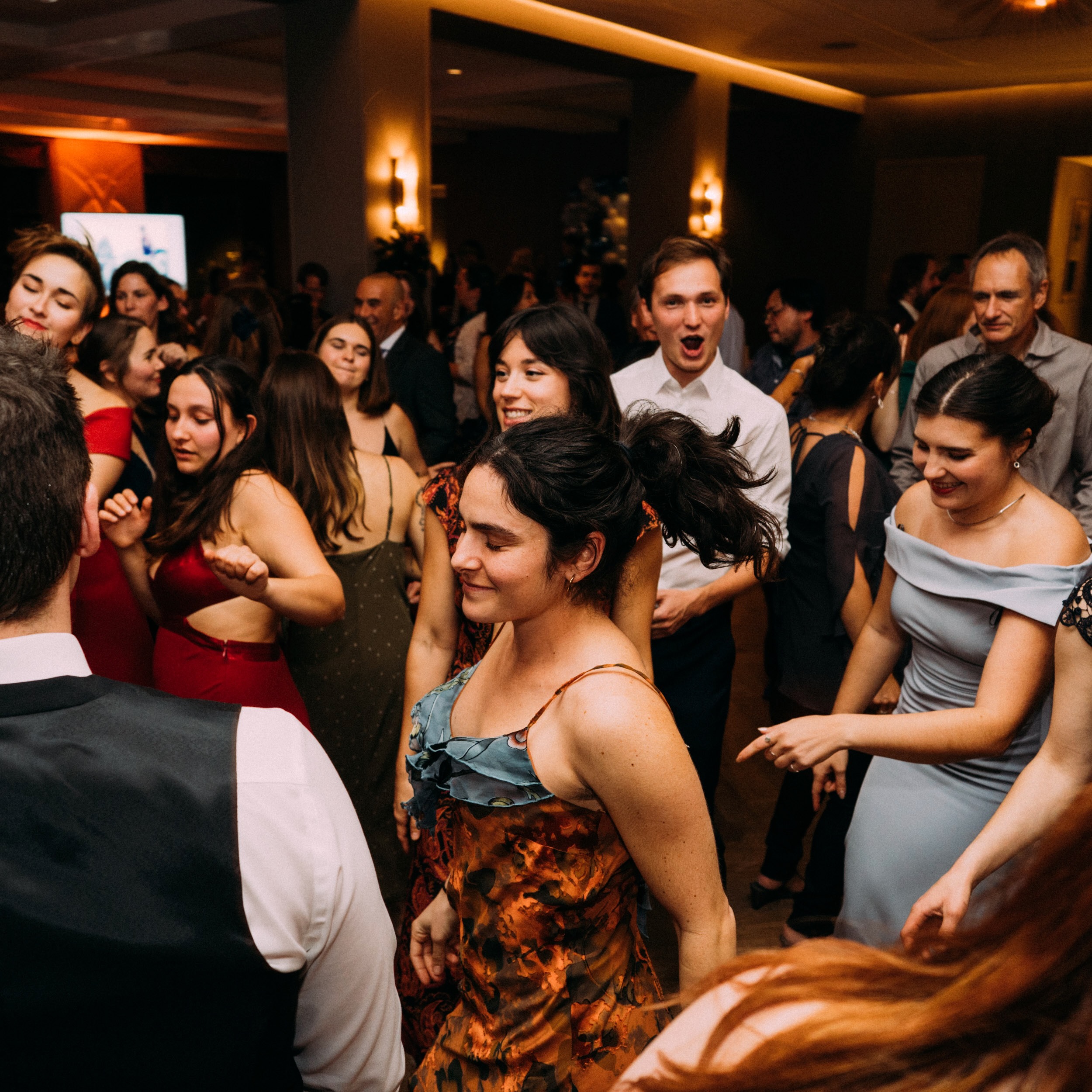 Opening remarks by Philippe Tortell, Head of EOAS
November 26, 2022
Dear colleagues, friends and guests,
I'm delighted to welcome you all here for this very special evening, as we gather on the traditional, ancestral and unceded territories of the Coast Salish peoples to celebrate an important milestone in the history of the EOAS department.  Twenty-five years ago, a group of scholars was brought together, likely against the will of many, to begin an experiment in cohabitation and coexistence. Tonight, we will celebrate the remarkable achievements of this group and those that have followed in their footsteps. We will also reflect on how we and the society around us have evolved over the past quarter century, and consider the challenges and opportunities that face us into the future.
As we reflect on the past twenty-five years of our history, roughly the length of a single human generation, we must appreciate the multi-generational Indigenous history of these lands, going back thousands of years, during which First Nations people have gained deep insights into the inter-connectedness of the Earth system.  From this perspective, our time together has been only the briefest interlude in a long story.  And yet, over that short moment in time, our planet has seen unprecedented change. 
A brief look back to the mid-1990s, when EOAS was amalgamated, is instructive. By that point, Earth observing systems and computer models were sufficiently advanced to clearly demonstrate a 'discernable human influence on global climate', as famously stated in the 1995 IPCC Assessment Report, which was a major impetus for the Kyoto protocol in 1997. That same year, just one year after the formation of EOAS, atmospheric pCO2 was 360 ppm and the last Indian residential school closed in Canada.  It would be more than a decade before the Canadian government issued an apology, and nearly twenty years before the Truth and Reconciliation Commission of Canada issued its landmark report and recommendations.
Fast forward to 2022. Both our planet and our societies have changed remarkably.  Climate targets have been set and missed again and again, as globalization – spurned by the creation of the World Trade Organization in 1995 – has vastly increased humanity's consumption of natural resources. With increasing precision, our scientific tools are allowing us to document the significant negative impacts of these activities.  Current atmospheric pCO2 is 415 ppm, nearly 60 ppm higher than in 1996. This rise over the past quarter century is more than half that observed over Pleistocene glacial-interglacial cycles, which have occurred over many thousands of years.  Earth scientists have played a critical role in documenting these changes, along with the attendant impacts on Earth's climate, sea-level, glacier melt, extreme weather, etc. We have also developed tools to predict what the future may hold with increasing certainty.  But this information has not been sufficient to motivate relevant societal action. As a result, we have been increasingly called to reach out directly to key audiences outside of the ivory tower, connecting directly with broad sectors of civil society.
As we have gained a deeper understanding of human impacts on Earth's biophysical systems, we have also come to better appreciate the devastating impacts of colonialism and racism in Canada and elsewhere.  In a new era of Truth and Reconciliation, we are now called to walk together along a path of collaboration and mutual understanding, working to build new relationships built on respect and humility.  These are the challenges of today, and the challenges of tomorrow, in which each of us must step forward. 
This evening is about celebrating our past and our present, and reflecting on how our role as Earth scientists will evolve over the next 25 years, as we seek to work across disciplines and engage with the society around us.  Several of tonight's speakers will present some reflections to guide our thoughts, and each of us will also have a role to play as the evening unfolds.  The evening is about reconnecting with old friends and colleagues, and also about building new relationships.  I encourage you to consider that as you take your seats in a few minutes – see if you can meet new people, and expand your understanding of the diversity of our department.
Before we take our seats, I'd like to acknowledge some special guests.  First, I'm delighted that we have been able to assemble all of the past Heads of the EOAS department, Bob Ellis, Paul Smith, Greg Dipple and Roger Beckie, each of whom has made many important contributions to our department.  I would also like to acknowledge Ross Beaty, an alumnus from our department in the pre-merger days.  Ross has been our greatest supporter, and his tireless efforts and generosity were critical in the construction of the Earth Sciences Building, our wonderful museum and many other facets of our department.  And last, but certainly not least, I also want to acknowledge the hard work of several EOAS graduate students who put this evening together, Eva Gnegy, Ruth Moore, Cara James, Cat Breasley and Sacchi Pillai.  They have put a huge amount of effort into planning this evening over many months. I think the results speak for themselves.   
To conclude, I would like to offer a toast to the remarkable group of individuals, past and present, who have contributed so much to EOAS over the past quarter century. I would like to acknowledge my colleagues on the EOAS faculty, who have given many years of dedicated and passionate service to this department, contributing to research, teaching, student mentoring, and to the often-tedious job of committee work.  I also salute our students and post-docs, who have been at the forefront of our research, and play a critical role in supporting teaching programs across the department.  You keep us young and constantly challenge us with new ideas.  You are the leaders of tomorrow, and the skills and knowledge you take with you from EOAS will be critical in solving some of our most important global problems.  And to our research, technical and administrative staff, you are the unsung heroes who look after our infrastructure, equipment and operations. You do your work professionally, efficiently and quietly in the background.  You manage the day to day operations of our department, allowing us to reach our full potential.  To all of these individuals, I offer my deepest gratitude and appreciation.  It has been a true honor to be part of EOAS for more than two decades, and I look forward to following our progress over the next quarter century.  Cheers!