Visualizing Climate Action won second place at HUBBUB
Last December, the Visualizing Climate Action team from the Climate Action Lab won second place at HUBBUB, a City Hall event where students share innovative ideas and solutions for city-building with City staff and elected officials.
Members of the team come from a variety of backgrounds; they include Nicholas Samuelson (Cellular, Anatomical, and Physiological Sciences), Rachel Habermehl (Geographical Sciences), Yeslie Lizarraga (Sociology), Joaquin Gutierrez (Integrated Sciences integrating Climate and Sustainability), and Kōlea Praywell (Environment and Sustainability).
The Visualizing Climate Action project uses displays to visualize climate action in Vancouver (see poster below; click to expand). The displays link climate change to meaningful places that people already treasure and care about. "We want to make climate change personal to people, so it's easier for them to act upon it," said the team. "The bond people have with physical locations and resources allows them to tie their climate action into a concrete contextualized goal in a hopeful tone."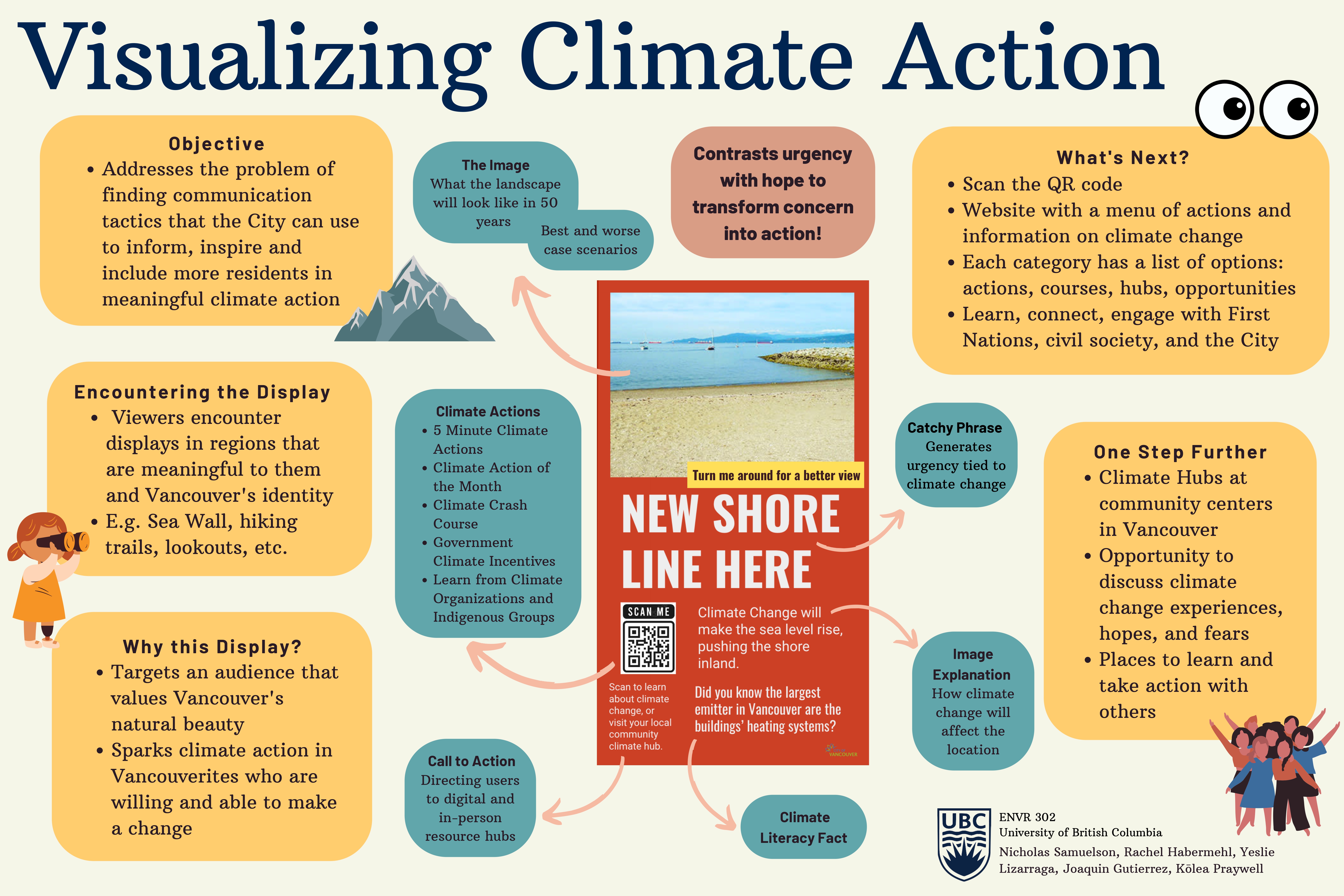 One of the highlights of the project is that it can engage people. "Our main goal is to engage as many people as possible as quickly as possible. Whether or not you want to, you are going to get engaged when you see the display." Some of the comments the team received from the City of Vancouver was that targeting and working with emotions was unique. In addition, the displays will direct people to climate resource hubs that the community already has, making it easier for people to learn and act.
When asked about their motivation for the idea of visualizing climate change, the team said that they actually had several hour-long meetings when they started the project, just to go through all their ideas. The display idea came up early and they thought it was very engaging. Then they wanted to connect it to something that Vancouverites are identified with, one of which is climate - the beautiful scenery people live in. By combining the display and climate, the team wanted to give people a sense of discomfort about their surroundings by showing them what they will encounter in fifty years if they don't act now. "We got a lot of positive feedback on targeting emotions, but we also need a sense of hope for people to have something to work towards," said the team. Therefore, climate resources were also integrated into the display to show people how to take action to prevent that discomfort from happening in the future.
The experience of working alongside the City of Vancouver and participating in HUBBUB was memorable, according to the team. "We engaged with all the people we talked to and especially, a lot of people that work in the City. It felt collaborative that everyone wanted to hear what we had to say." They also had some great conversations with the audience, such as discussing how many changes have taken place in the city over the past 50 years. "It was interesting to see how people can think of changes that we didn't necessarily know before."
The team was glad that they took the jump by targeting people's emotions and managed to bring a sense of hope with climate action. "It was scary to do something different, but we took a chance and it definitely paid off. We received a lot of positive feedback at HUBBUB. Everyone we gave a presentation to left happy and gave us good comments."
The City of Vancouver is now offering an internship for a graduate student to follow up on this work through the Sustainability Scholars Program. Description of the Visualizing Climate Action project can be found here: 2023-054 Development of graphics to visualize climate action and inaction in Vancouver. Deadline to apply is January 29.