EOAS Science Education Initiative
News: Summer 2017
Updates to this website ceased summer 2017.
For EOAS education initiative news and resources after summer 2017, including our "EOAS-SEI Times" 2-pagers, please see our UBC-hostd Blog..
A 1-hour discussion session was delivered for research associates and post doctoral fellows aimed at introducing fundamentals about how learning works. The aim was to offers some foundations that can benefit all types of learning, whether in professional or academic communications, as a teacher, or as a student. Materials including slides and references are given on our blog.
EOAS-SEI "Times" are now available at http://blogs.ubc.ca/eoassei/. Recent progress on EOAS-SEI projects includes consolidation of past paired teaching initiatives, perparation for new paired teaching settings, and devepoment of "scientific reasoning" assessment for a Natural Hazards context.
New publication: F. Jones, 2016, "Impact assessment of a department-wide science education initiative using studentsí perceptions of teaching and learning experiences", Assessment & Evaluation in Higher Education, online 26 May, 2016. Full paper linked here..
Full funding as been approved to begin a new 2 year project in May 2016. The title is "Development of cost effective strategies for teaching, learning and assessing scientific reasoning abilities in large face-to-face and distance education general science courses".
The Career Magazine at AAAS SCIENCE references EOAS innovations in education. This Special Feature explores how and why faculty should incorporate active learning into their courses. It also offers advice for current faculty and emerging science professionals who anticipate having a teaching role in their careers. See "Effective teaching: to be an effective educator, get active", Chris Tachibana, Sept 18, 2015.
Welcome back for a new school year. See our latest EOAS-Times on building effective homework exercises.
Congratulations to Sara Harris, Director of EOS-SEI projects since 2007, who has won a prestigious 3M National Teaching Fellowship from the Society for Teaching and Learning in Higher Education (STLHE). The fellowship recognizes exceptional contributions to teaching and learning at Canadian universities. See the STLHE page and see the Maclean's article [pdf].
The Earth, Ocean and Atmospheric Sciences Science Education Initiative continues now with two new projects and new TLFs to carry them out. Find more details below and via the left-hand menu.
Evolving Educational Culture in EOAS: Toward Transformative Learning. An essay about EOS-SEI (April 2014).
Recent (and all) publications are listed in our Research Communications list.
Descriptions of current projects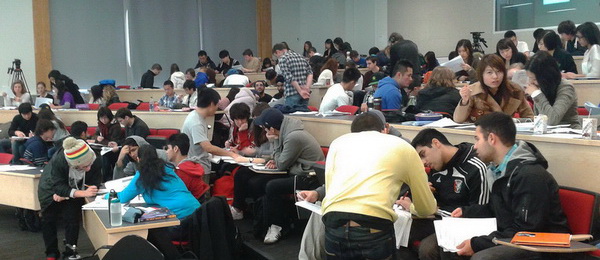 In May 2014 we started a UBC-funded 2 year initiative to leverage best practices from both face-to-face and online teaching modes, and introduce new resources that work in both settings.
In September 2014 we began a 3 year project involving exploration of a co-teaching model with STLF support so that faculty can develop and transfer new discipline-based educational expertise together.