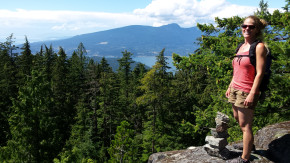 Lucy's primary research focus is the volcanology of low viscosity magmas. This has included the volcanology of kimberlite pipes, which are the roots of old volcanoes and are the primary deposits for diamonds, as well as projects on basaltic eruptions in Hawaii. Her main field area is in the Northwest Territories where she studies several of the kimberlite pipes of the Lac de Gras field. As a volcanologist, as well as an economic geologist, Lucy is also interested in many aspects of physical volcanology and has visited several active volcanoes around the world, both for research and just for fun!
Lucy is currently involved in several teaching initiatives and is interested in research into the scholarship of teaching and learning in the Earth Sciences, in particular in field based courses.
Lucy teaches a variety of undergraduate courses, focusing on large first year geoscience classes and field based courses. Lucy is part of the teaching team for the EOAS contribution to the Vancouver Summer Program, a one month long intensive program for international undergraduate students from universities around the world. In her role as part of the UBC team collaborating with the University of Central Asia (UCA), she is helping to build the curriculum and courses for the UCA Earth and Environmental Sciences undergraduate degree. She completed the UBC International Program for the Scholarship of Educational Leadership: UBC Certificate on Curriculum and Pedagogy in Higher Education in 2017, and is committed to using and developing research informed teaching practices.
Lucy has a background in applied geology and has been involved in both regional and mine site exploration for gold and diamonds. She completed her PhD at Monash University, Melbourne, Australia in 2008, where she studied the volcanology of several kimberlites from the Ekati Diamond Mine in the Lac de Gras field (NWT, Canada). She came to UBC in September 2009 with a Commonwealth Postdoctoral Research Fellowship to continue her research on kimberlite volcanology focussing on the A418 kimberlite of the Diavik Diamond Mine, also in the Lac de Gras field. She then held a European Union Marie Curie Research Fellowship, and worked at UBC in conjunction with researchers at Bristol University, UK, to study the fragmentation behaviour of low viscosity magmas, including Hawaiian basalts, carbonatites and kimberlites. Lucy is currnetly a Research Associate in the Volcanology and Petrology Laboratory at UBC and an instructor for a variety of EOSC courses including EOSC 110, 111, 114, 223, 328.
2016
2015
2014
2013
2012
2011
2009
2008