Earth and Ocean sciences: embracing the scientific diversity of our fascinating planet
  The UBC calendar page for Earth and Ocean Sciences has formal degree specialization details.
Overview
The Earth and its oceans are endlessly fascinating. Understanding the physical and fluid processes on our planet is a critical aspect of long term sustainability. This is a flexible specialization expressly designed for students keen to explore the broad spectrum of disciplines within our Department. Courses can be selected for broader or more focused perspectives across the Earth Sciences. Graduates will be well-placed to pursue occupations or further studies in education, pre-med, law, journalism, or other disciplines that may overlap with aspects of Earth or ocean sciences. The scope of Earth and Ocean Sciences can be seen at Wikipedia's Index of Earth Science Articles.
If professional registration is a goal, students are recommended to pursue one of our more focused degree specializations in geology, geophysics, geological engineering or environmental sciences. However, a BSc major in Earth and Ocean Sciences can - with care - lead to registration as a professional geoscientist in BC.
For career opportunities – see our Career Pathways page.
Degrees Offered
Guidelines for current students
Faculty and Teaching
Our faculty in the Department of Earth, Ocean and Atmospheric Sciences conduct research and teach in the broad fields of geology, mineralogy, geophysics, groundwater hydrology, physical & biological oceanography, climatology, environmental science, glaciology and related disciplines. They are experienced in modern pedagogical practices that emphasize active learning, a balance of solo and group or team learning, and project-based, application-oriented settings. Also, we are constantly innovating and collaborating on educational development with colleagues both within UBC and beyond.
Student Experiences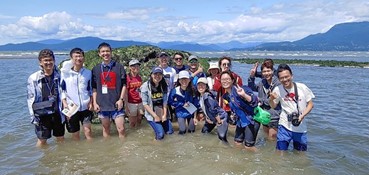 Students gain geological and scientific skills that are applicable in wide range of occupations or studies. Earth and Ocean Sciences students will benefit particularly from our …
interdisciplinary courses, faculty, and research
attention to students, including small classes and a vibrant student community
connections with geoscience, oceanographic, resource sector, and government organizations
a departmental commitment to ongoing support of course-development
Facilities
Courses involve hands-on labs, equipment and computing facilities related to geology, geochemistry and isotope studies, field studies and many more. Examples of the many facilities at EOAS include:
A new, modern field station in British Columbia's Okanagan Valley for housing researchers and students and supporting their studies and research,
World-class equipment, expertise and capabilities in geochemical research and isotope studies
Laboratory facilities to support geological and mineralogical studies
Several active student clubs with dedicated space for undergraduates
The Pacific Museum of Earth with a large collection of minerals, fossils and rocks,
Extensive computing capacity for numerical modeling and mapping work.