This page is a showcase of undergraduate student "products" or contributions. They participate in industry & academic competitions, generate original research, engage in community and industry supported projects, and some excel in their non-academic activities.
We hope that making student work visible  will inspe current and prospective students, and demonstrate how EOAS students learn and apply discipline-specific and professional skills in authentic contexts. 
A student-inspired comment: 
A love of nature, exploration and science is perfectly matched to geoscience studies, enabling a path that combines my recreational and academic interests for an exciting future career.
1. EOAS Honors theses
An "honours" degree involves intense specialization in a single field or a combination of fields (see the Faculty of Science information, & UBC's details). In EOAS, honours students are expected to complete a 2-term research project under the guidance of a Department researcher. Many make significant contributions to the Department's research output. 
These are often formative experiences for young scientists and professionals. This list of honours thesis topics shows the quality and diversity of EOAS students' work.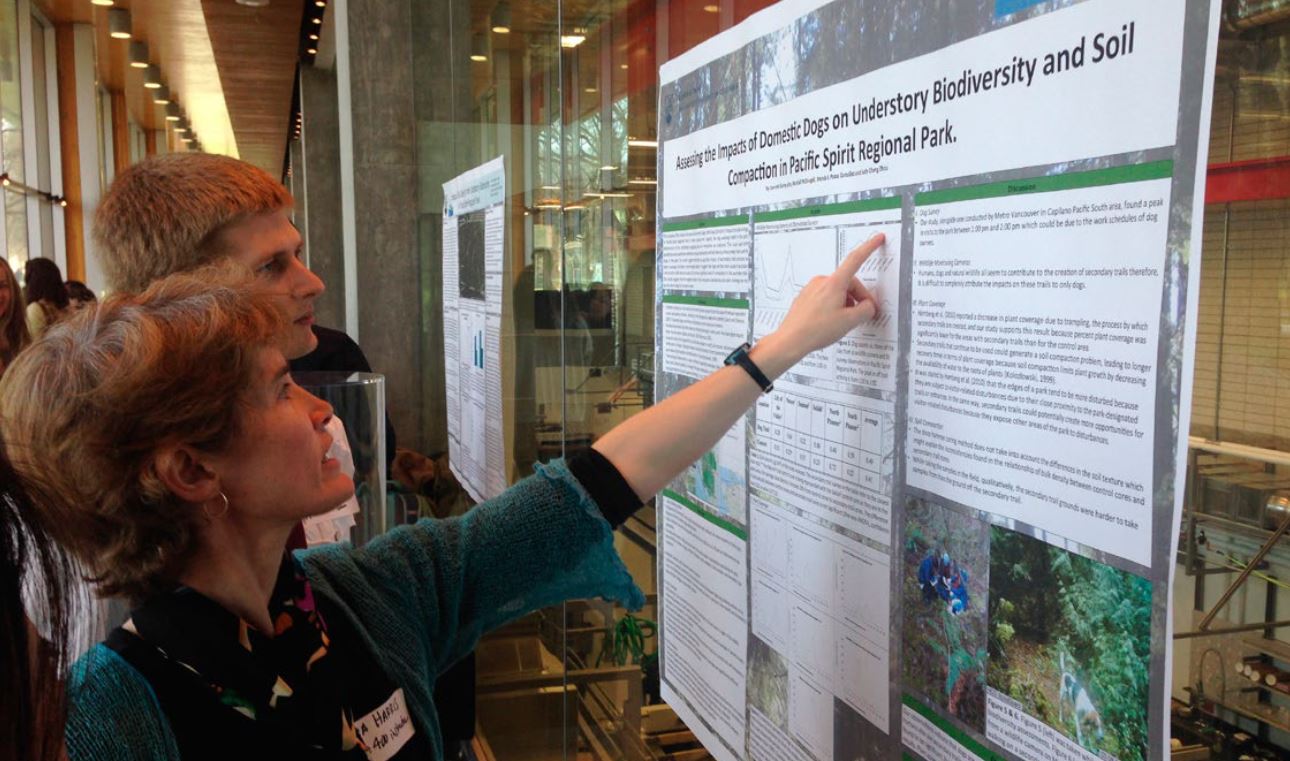 2. Community and Industry Engagement
ENVR 400: student / community partnership projects 
ENVR 400, "Research Project in Environmental Science" is a capstone course for Environmental Science students. Student teams work with community partners on guided, community-based environmental science projects. Teams articulate project questions and goals, devise methods, conduct research and communicate results. Click the following dropdown to view projects from recent years. To find abstracts and reports, search by title at the UBC cIRcle repository.
Students

Year

Project Title
(Search for these titles at https://circle.ubc.ca/)

Community
Partner

L. Kummer,
H. Wang,
N. Harland

2021

Determining viable small-scale renewable technologies for the Spruce Harbour Marina clubhouse in False Creek, Vancouver.

False Creek South Neighbourhood Association

N. Cheng,
F. Tsui,
E. Suchy

2021

Creating a Natural Asset and Ecosystem Services Management Framework that Centers Climate and Social Justice for the City of Vancouver.

City of Vancouver / City Studio

K. Macdonald,
S. Marohn,
X. Zhang

2021

Developing a Biodiversity and Climate Change Based Educational Plan for use in the Riley Park Community Spring Break Program to Instill long lasting Ecological Literacy.

Little Mountain Neighbourhood House

K. Clarke,
B. O'Callahan

2021

Mapping climate mitigation, adaptation, and justice initiatives and climate policy in MetroVancouver.

SPEC / CALP

C. Weinhagen,
V. Knoblauch,
I. Francis

2021

Mapping the distribution of endangered mosses in BC to inform sampling and assess regional effects of climate change.

UBC Herbarium

J. Haw,
M. Loveland,
L. Wang

2021

Electrifying Change: An Analysis of Electric Vehicle Charging of Multi-Residential Units in Vancouver.

2 Degrees Institute

S. Thornton,
O. von Wahl

2021

Assessing Avian Biodiversity in the City of Surrey.

Birds Canada

E. Le,
M. Stewart,
A. Wohlers

2021

Holistic Sustainability Indicators for Small Scale Agricultural Practices.

LiteFarm / UBC Centre for Sustainable Food Systems

M. Bozik,
C. Pan,
M. Thormeyer

2021

Reed Canary Grass in Stanley Park: Mapping and Mitigating the Spread of the Invasive Plant.

Stanley Park Ecology Society

J. Brown,
M. Pope,
J. Shepard

2021

Assessment of Factors Contributing to Poor Chum Salmon Returns in Spanish Bank Creek.

Spanish Bank Streamkeepers

M. Yu,
R. Hao

2021

Analysis of the Progress of Ecological Restoration Efforts in Pacific Spirit Regional Park

Metro Vancouver

J. Lin,
M. Marcus,
T. Cui

2020

Electrification of the Sunshine Coast Transit System: A Feasibility Study.

2 Degrees Institute

Z. Zhang,
P. Zhang,
Q. Lyu.,
Y. Tang

2020

Evaluating municipal waste management strategies between Vancouver and world cities.

Society Promoting Environmental Conservation

L. Faulkner,
M. Liu,
E. Newman

2020

Increasing Riparian Habitat and Ecosystem Function in Lost Lagoon through Shoreline Restoration.

Stanley Park Ecology Society

J. Cheng,
J. Mancer,
R. Hernandez

2020

Modelling the Impacts of Sea Level Rise on Suitable Dunlin Habitat in the Fraser River Delta.

Abstract Accepted: Salish Sea Ecology Conference, April 2020; Cancelled due to Covid-19)

Birds Canada

R. Huang,
X. Huang,
Y. Xia

2019

Assessing the Policies and Processes of Waste Management in Four Canadian Cities.

Society Promoting Environmental Conservation

T. Kapoor,
G. Singh,
R. Park

2019

Place-Based Learning (PBL) at Riley Park: An Outdoor Educational Tool for BC Schools.

External Funding: CCEL Community Partnership Grant

Little Mountain Neighbourhood House

M. Poblacion,
G. Sharma

2019

Energizing the Public: Designing and Installing a Renewable Energy Demonstration in Riley Park.

External Funding: CCEL Community Partnership Grant

Society Promoting Environmental Conservation

O. Hester,
E. Milne,
K. Wang

2019

A spatial analysis of terrestrial salamander distributions and disturbance levels in Pacific Spirit Regional Park.

Metro Vancouver

F. Ramsay,
X. Tang,
Y. Yuan

2018

Beyond Styrofoam: A Life Cycle Analysis and Eco-Efficiency Portfolio of Single-Use Containers (Polystyrene, Plastic, Biodegradable Plastic, Paper, and Aluminum).

Society Promoting Environmental Conservation

L. Munwar,
M. Niyaz,
K. Sano

2018

Do Ponds on UBC Campus play a role in the well-being of Individuals?

UBC SEEDS

M. Gray,
R. Lewko

2018

The Impact of Experiential, Research- and Community-based Learning in Herbaria on First-year University Students.

UBC BIOL121 / UBC Herbarium

C. Deduque,
J. Huynh

2018

Physical Literacy and Nature Exploration (PLANE): Enhancing Connections Between Families and Nature.

Little Mountain Neighbourhood House
EOSC 445: student / industry partnership projects
EOSC 445 "Engineering Design Project" is a capstone course taken by all upper-year geological engineering students who work in small teams to solve complex, open-ended design challenges supplied by volunteer Project Sponsors from industry. Click the following dropdown for a summary of recent projects.
Team
Student Names
Project Sponsor
Project
A
Andrew Funk, Arnaud Dione, Gemma Ferland, Karina Stapleton, Nandini Bulusu
BGC Engineering
Jura Creek Risk Assessment and Conceptual Mitigation Design
B
Abbas Haider, Alexandra Nagy, Mark-Antoine Berthiaume, Zai Chern Cheng
BGC Engineering
C
Justin Kelly, Kendra Mercer, Logan Haubrich, Rian Watanabe, Stephanie Tarnai
Klohn Crippen Berger
Mine Water Management Upgrade Project
D
Andrew Cleghorn, Charles Xia, Ciaran Robinson, Jeremy Young, Raphael Bayaban
Thurber Engineering
Deep Excavation for Residential Tower - Shoring and Water Management Solutions
E
Heya Gupta, Kshitijendra Thakur, Omar Farahat, Piradeepan Uthayakumar, Rachel Choboter
Thurber Engineering
Capstone Creek Highway Widening Design Project
F
Jacob Ong, Jordan Fu, Matthew Ng, Nodir Musaev, Vincent Wong
Piteau Associates
Burebista Open Pit Slope Design
G
Arlena Kamuzima Musinga, Danielle Bridle, Morgan Weller, Teri Herbert
Golder Associates
Gucci Gold Project Pre-feasibility Open Pit Slope Design
H
Gavin Anderson, Matt Doricic, Nouran ElAmir, Youhan Ding
Piteau Associates
Buchanan Lake Groundwater Supply Feasibility Study
Faculty and students are grateful for all the generous time volunteered by our valued project sponsors from local industry, who make it possible for students to gain experience working on real-world geological engineering challenges.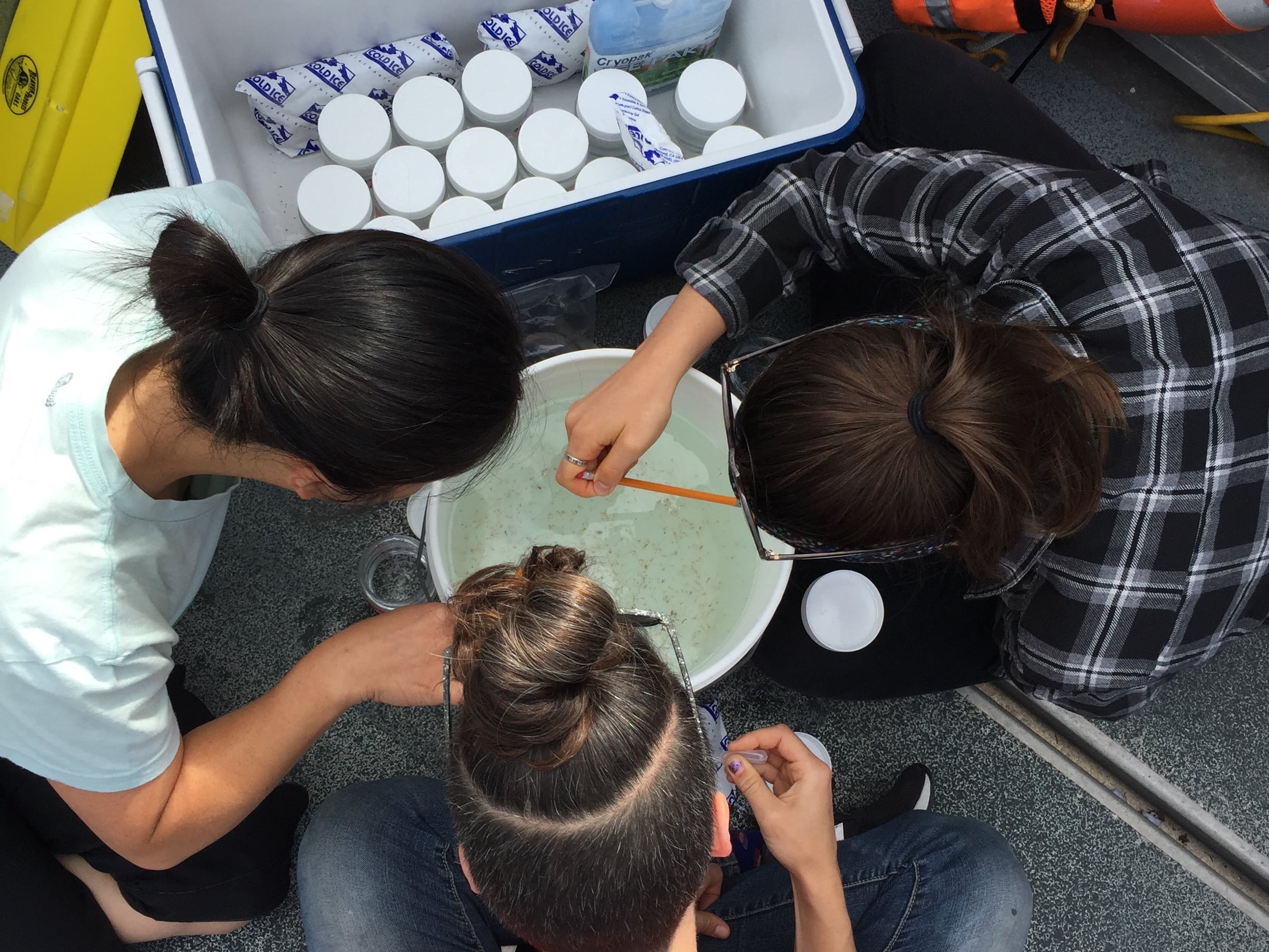 3. Geological engineering project competitions
Faculty of Applied Science Design & Innovation Day 2021
Congratulations to two teams of 4th-yr students who tied for 1st place in UBC's 5th annual Design & Innovation Day (D&ID), winning the Faculty Award for Geological Engineering. Sponsored by the Faculty of Applied Science, this competition showcases challenging design projects completed by upper year UBC students in all disciplines of engineering.
TEAM A: KANG Consulting (30 min presentation)
Project Sponsor: BGC Engineering Inc.
Project members: Nandini Bulusu, Arnaud Dione, Gemma Ferland, Andrew Funk, Karina Stapleton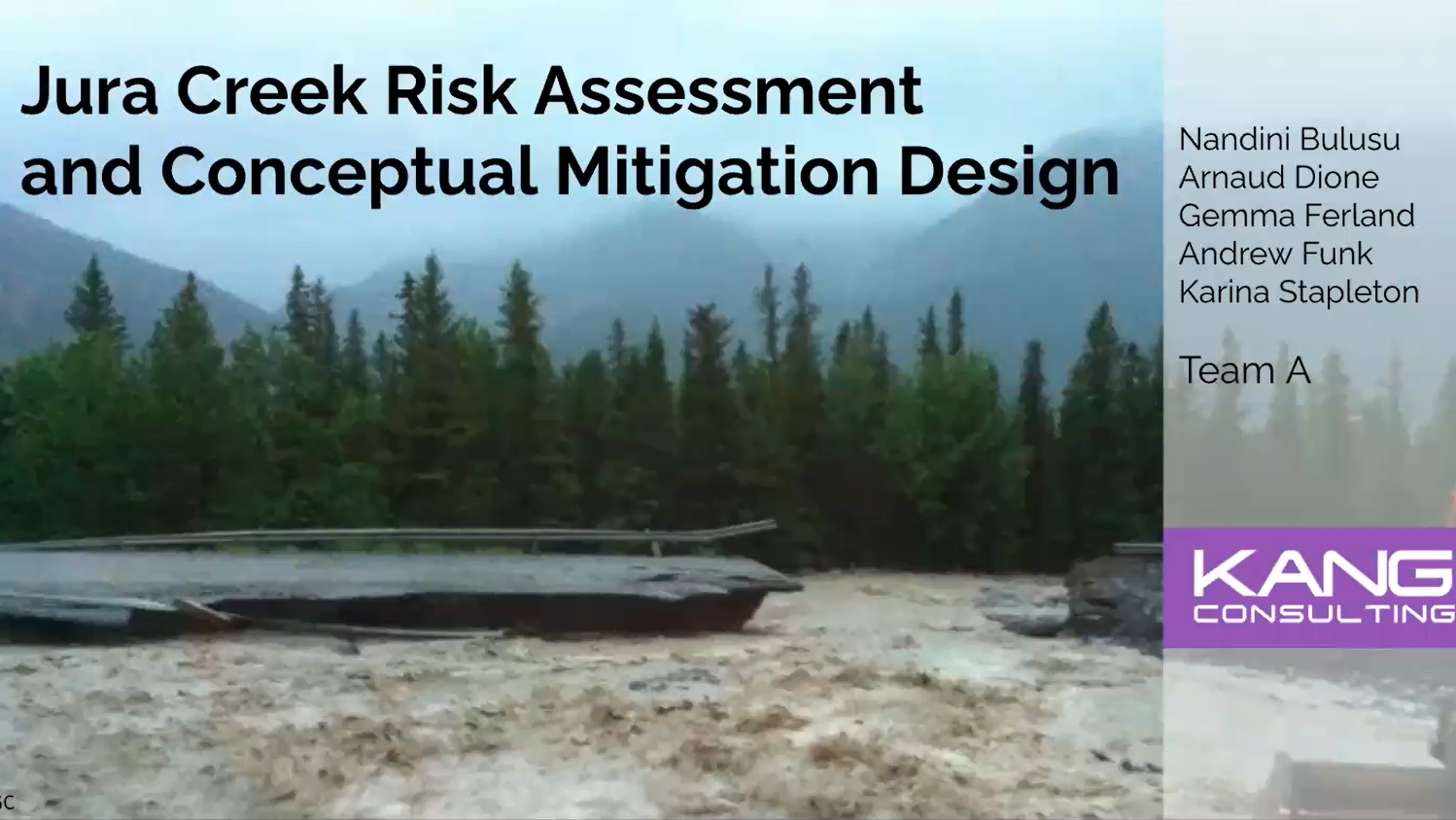 TEAM G: ADTM Engineering (30 min presentation)
Project Sponsor: Golder Associates
Project members: Danielle Bridle, Teri Herbert, Arlena Kamuzima Musinga, Morgan Weller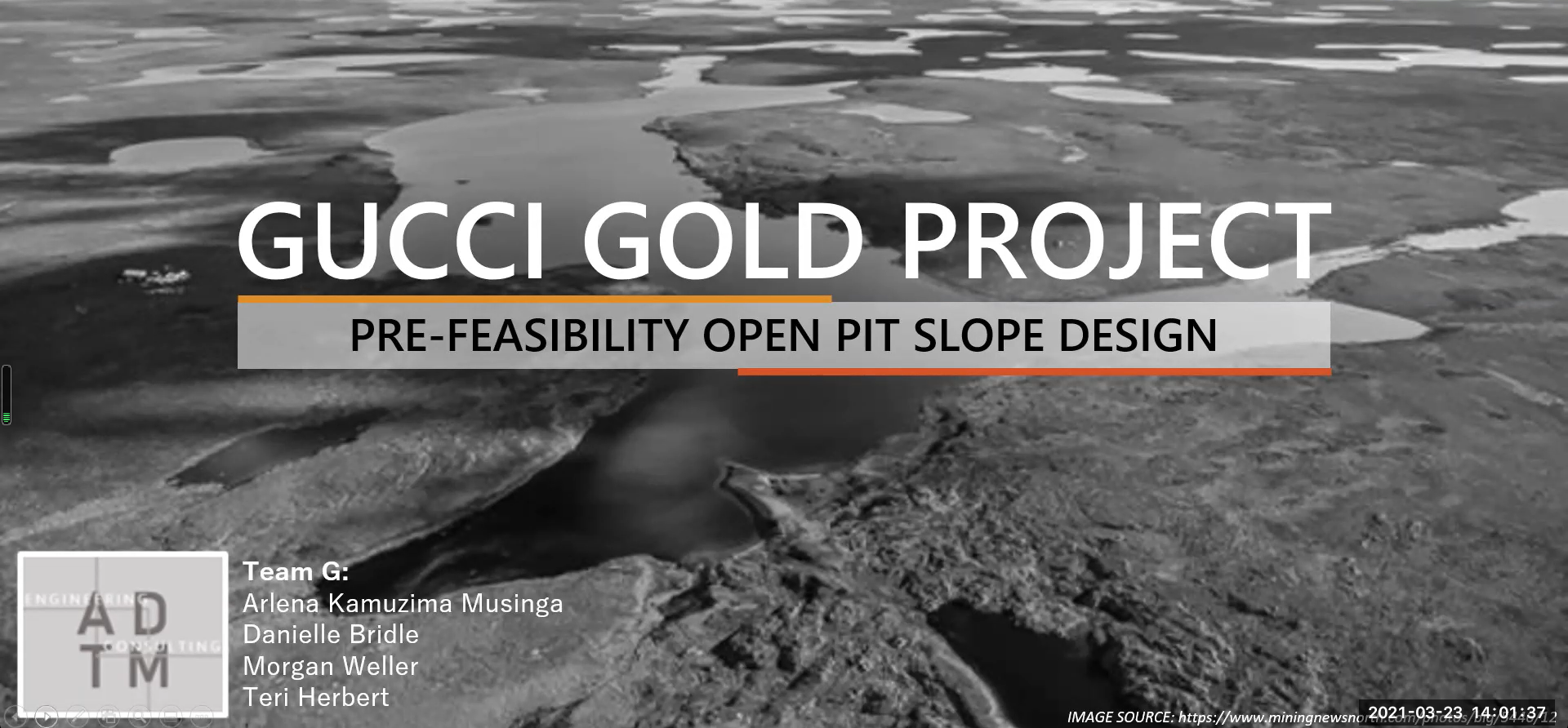 The Canadian Geotechnical Society's 2020 Student Competition
UBC geological engineering teams have placed first or second in the nation-wide annual CGS competition 8 times in recent years. We celebrate all participants for their hard work and tremendous achievements! Most recently: 
Second place in the Canadian Geotechnical Society's 2020 Student Competition, in the  "Undergraduate Group Report" category.
Students: Maddy Hughes, Ethan Alban, Lucas Fabbri and Erica Forkheim
Report title: "Pre-feasibility Gucci Open Pit Design."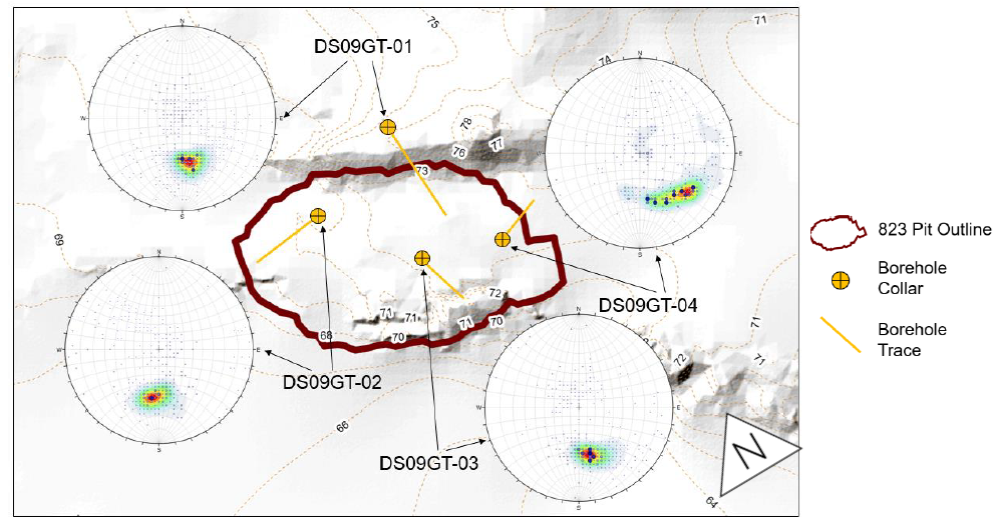 "Pre-feasibility Gucci Open Pit Design" by Maddy Hughes, Ethan Alban, Lucas Fabbri and Erica Forkheim
These CGS Student Competition awards recognize engineering students at Canadian universities for excellence in solving open-ended geotechnical design challenges and preparing formal technical reports, while fostering teamwork skills. Click the accordion below for a summary of recent UBC entries.
Competition Year
CGS Competition Results
Project Sponsor
Student Names
Report Titles
2020
Second
Golder Associates
Ethan Alban
Gucci Gold Project: Pre‐Feasibility Gucci Open Pit Design
Lucas Fabbri
Erica Forkheim
Maddy Hughes
2019
First
BGC Engineering
Mat Stephenson
Tailings Storage Facility Prefeasibility Study
Stephen Marks
Shawn Matthies 
Jesse Zonneveld
2018
First
Piteau Associates
Margie Banda
Abundante Open Pit Design
Dazy Gosal 
Adam Mickey
Casey Watamaniuk
2017
First
Piteau Associates
Erik Cernik 
Feasibility Geotechnical Evaluation: Slope Design Criteria for the Phase II Bafour Open Pit Project
Lea Johnston 
Takako Miyochi
Eric (Suqi) Zhou
2016
First
 Tetra Tech
Roxanne Hasior
Long Lake Tunnel & Surface Cut: Pre‐Feasibility Design & Comparison
Michael Kraitman
Jacob Nicklen
Jacob Nikl
2015
Second
 Tetra Tech
Gavin Black
Long Lake Project: Tunnel Versus Rock Cut Design Option Analysis
Savanna Herman
Shammai Ugalino
Aron Zahradka
2014
First
Piteau Associates

Matthew Gray

Unobtainium & Eludium Mining Ltd Inperfecto Project Pre‐Feasibility Level Slope Design

Carlin Horkoff

Jaimie Loughlin 
Robert Kaplen
2013
Second
UBC
Jenna Bowling
Foundation and West Approach Embankment Design of the New Fraser River Crossing
Ryun Humenjuk
Crystal Lei
Adam Woods
Xiao Qin Yang
4. Diverse, Inspiring Projects in EOSC 212 "Topics in the Earth and Planetary Sciences".
Each year, students in EOSC 212 practice scientific thinking, information synthesis, and communication within the context of a variety of important and relevant topics related to earth, ocean, atmospheric, environmental or planetary science. Their capstone research project involves producing posters and presenting them in public, emulating a scientific convention.  Project are started by posing a question emerging from some feature in a data set of their choice. Then critical thinking, basic data analysis and conceptual or quantitative models are applied to address their interesting and timely topic.
Titles of posters created in Fall 2022 included:
How and to what extent did COVID-19 affect greenhouse gas emissions?
What drives tropical cyclones and what is the sensitivity of drivers to global warming?
Does "fracking" affect groundwater resources significantly?
How does ozone depletion affect Earth's ecosystems?
Can atmospheric rivers affect the stability the Larsen Ice shelf
How has glacial retreat in central Asia affected slope stability?
How is the history of seafloor spreading and subduction expressed in the age distributions and chemistry of rocks?
How is the accelerating instability of Greenland ice affecting human settlements?
What is the spatial character of recent extreme melting events on Greenland?
How will sea level rise affect Vancouver?
Is climate change going to shred tourism in Vancouver?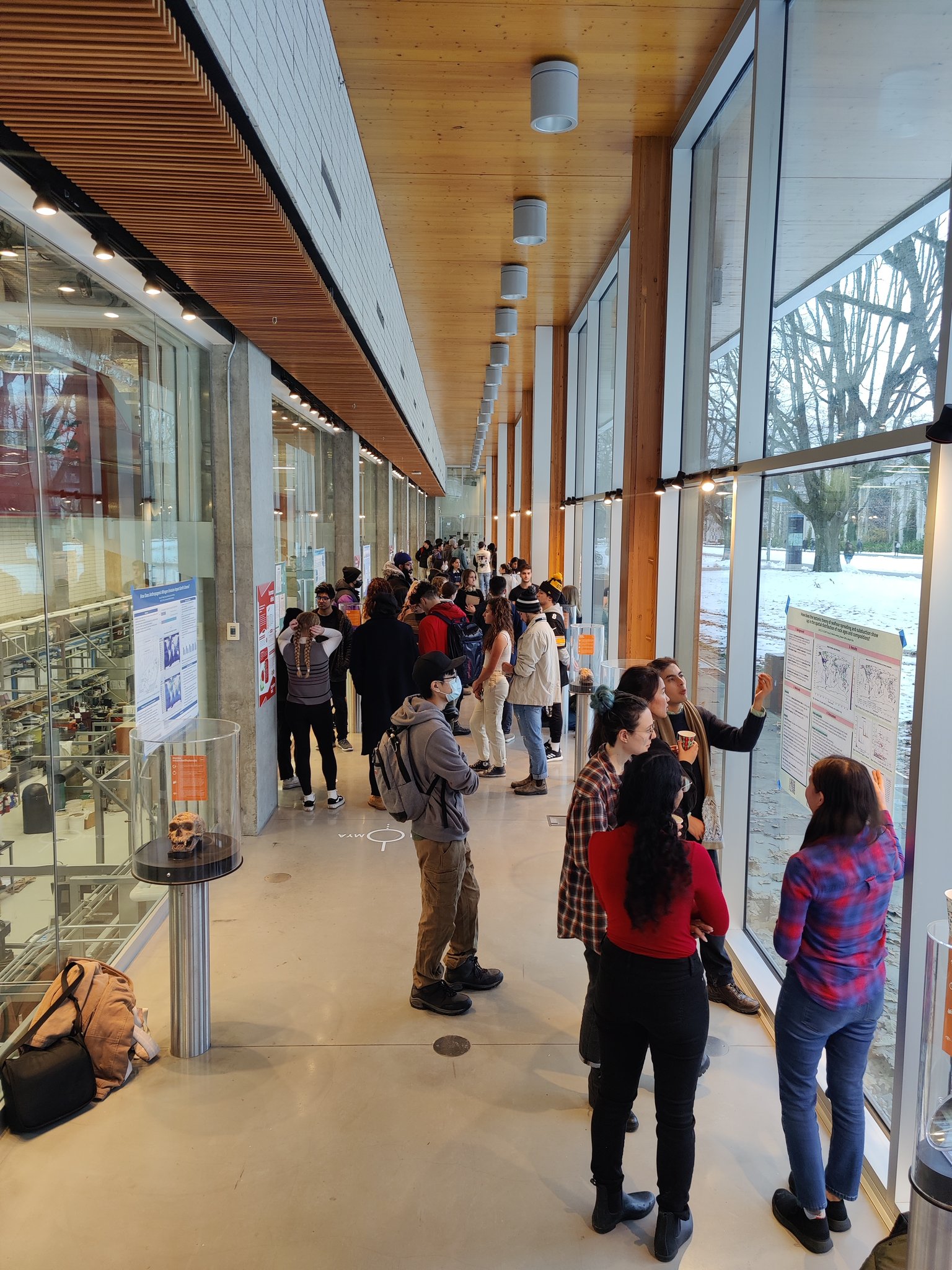 5. Highlighting individual past and present EOAS students