Student Achievements
Spotlight Projects
Faculty of Applied Science Design & Innovation Day 2021 Winners
Congratulations to the following two teams of fourth-year students who tied for first place in the fifth annual Design & Innovation Day (D&ID), winning the Faculty Award for Geological Engineering.  The competition, which is sponsored by the Faculty of Applied Science, was forced to move online again in 2021, but continues to showcase challenging design projects completed by upper year UBC students in all disciplines of engineering. 
D&ID 2021 Faculty Award for Geological Engineering Co-Winners
TEAM A: KANG Consulting
Project: Jura Creek Risk Assessment and Conceptual Mitigation Design
Project Sponsor: BGC Engineering Inc.
Nandini Bulusu
Arnaud Dione
Gemma Ferland
Andrew Funk
Karina Stapleton
TEAM G: ADTM Engineering
Project: Gucci Gold Project Pre-feasibility Open Pit Slope Design
Project Sponsor: Golder Associates
Danielle Bridle
Teri Herbert
Arlena Kamuzima Musinga
Morgan Weller
The Geological Engineering Program's faculty and students wish to express their gratitude to all our valued Project Sponsors from local industry, who generously volunteer their time to sponsor capstone design projects based on real-world geological engineering challenges. For links to all eight geological engineering project presentations for 2021, refer to the heading EOSC 445 at the bottom of this page.
The Canadian Geotechnical Society's 2020 Student Competition
Congratulations to Maddy Hughes, Ethan Alban, Lucas Fabbri and Erica Forkheim, who were awarded second place in the Canadian Geotechnical Society's 2020 Student Competition for their report titled "Pre-feasibility Gucci Open Pit Design." The Undergraduate Group Report category of the Student Competition recognizes engineering students at Canadian universities for excellence in solving open-ended geotechnical design challenges and preparing formal technical reports, while fostering teamwork skills. UBC geological engineering teams have placed first or second in this nation-wide annual competition eight times in the last eight years. We celebrate all of them for their hard work and tremendous achievements!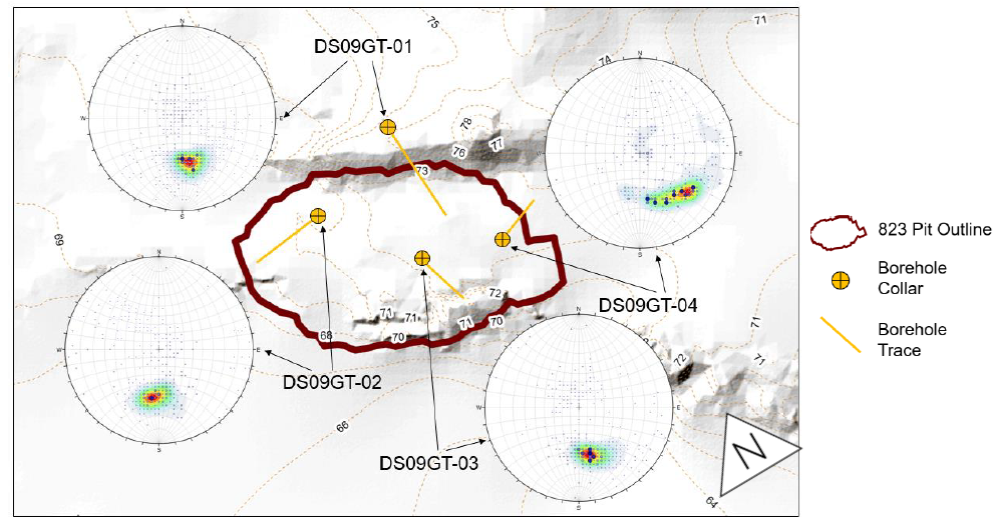 "Pre-feasibility Gucci Open Pit Design" by Maddy Hughes, Ethan Alban, Lucas Fabbri and Erica Forkheim
The Canadian Geotechnical Society (CGS) is the leading organization for geotechnical engineering and related geoscience in Canada. Each year, the CGS sponsors a Student Competition, with entries solicited from across Canada in three categories: Graduate Student Presentation; Undergraduate Report (Individual); and Undergraduate Report (Group). In the last eight years, UBC geological engineering student teams have placed first five times and second three times in the Undergraduate Report (Group) category. Click the accordion below for a summary of the UBC entries.
Competition Year
CGS Competition Results
Project Sponsor
Student Names
Report Titles
2020
Second
Golder Associates
Ethan Alban
Gucci Gold Project: Pre‐Feasibility Gucci Open Pit Design
Lucas Fabbri
Erica Forkheim
Maddy Hughes
2019
First
BGC Engineering
Mat Stephenson
Tailings Storage Facility Prefeasibility Study
Stephen Marks
Shawn Matthies 
Jesse Zonneveld
2018
First
Piteau Associates
Margie Banda
Abundante Open Pit Design
Dazy Gosal 
Adam Mickey
Casey Watamaniuk
2017
First
Piteau Associates
Erik Cernik 
Feasibility Geotechnical Evaluation: Slope Design Criteria for the Phase II Bafour Open Pit Project
Lea Johnston 
Takako Miyochi
Eric (Suqi) Zhou
2016
First
 Tetra Tech
Roxanne Hasior
Long Lake Tunnel & Surface Cut: Pre‐Feasibility Design & Comparison
Michael Kraitman
Jacob Nicklen
Jacob Nikl
2015
Second
 Tetra Tech
Gavin Black
Long Lake Project: Tunnel Versus Rock Cut Design Option Analysis
Savanna Herman
Shammai Ugalino
Aron Zahradka
2014
First
Piteau Associates

Matthew Gray

Unobtainium & Eludium Mining Ltd Inperfecto Project Pre‐Feasibility Level Slope Design

Carlin Horkoff

Jaimie Loughlin 
Robert Kaplen
2013
Second
UBC
Jenna Bowling
Foundation and West Approach Embankment Design of the New Fraser River Crossing
Ryun Humenjuk
Crystal Lei
Adam Woods
Xiao Qin Yang
Honours Theses
Undergraduates make significant contributions to the Department's research output. These are often formative experiences for young scientists and professionals. Click here to discover the quality and diversity of their work by browsing this list of titles with links to the corresponding thesis title page and abstract.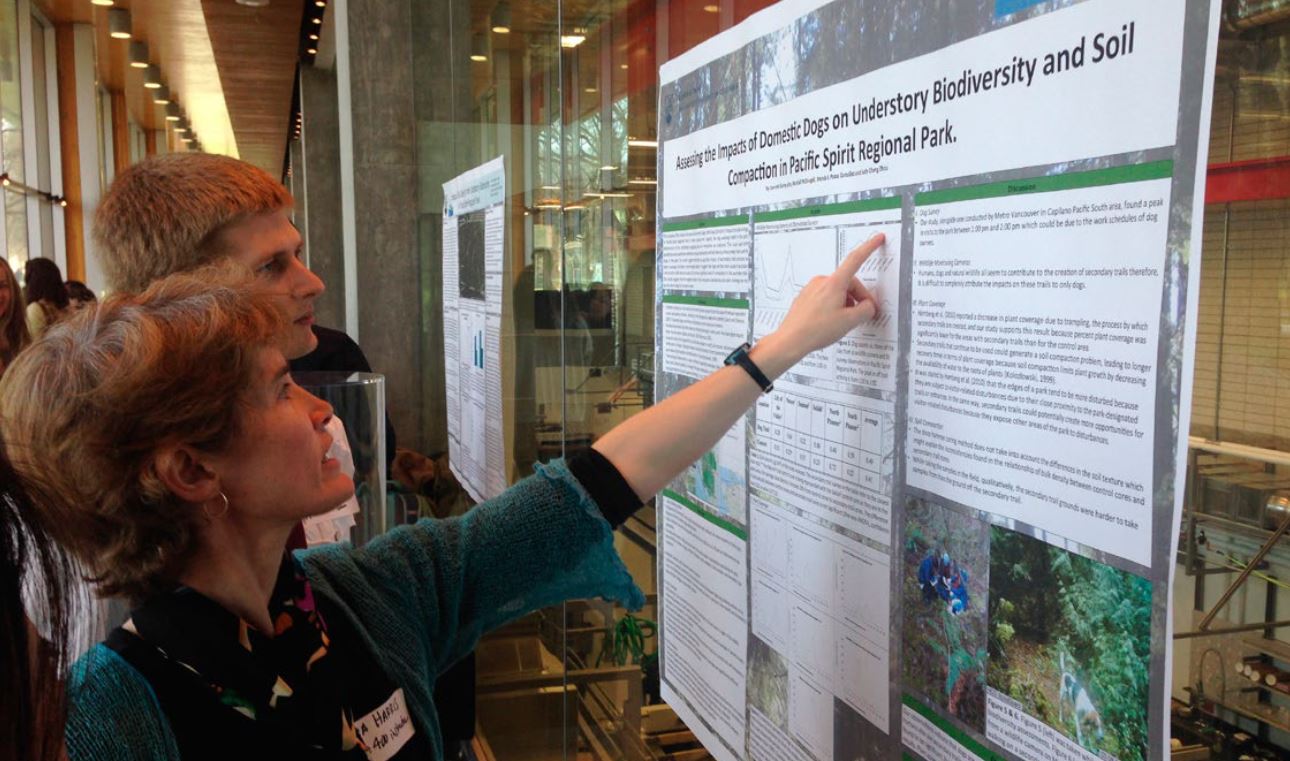 Community and Industry Engagement
ENVR 400
ENVR 400, "Research Project in Environmental Science" is a capstone course for Environmental Science Students. It involves instructor-guided collaboration between student teams and community partners on community-based environmental science projects. Teams articulate project questions and goals, devise methods, conduct research and communicate results. Click the accordion below to view a representative sample of a few projects from recent years. To see abstracts and reports, copy the Project Title into the search engine at UBC's cIRcle repository for research and teaching materials created by the UBC community and its partners.
Students

Year

Project Title
(Search for these titles at https://circle.ubc.ca/)

Community
Partner

L. Kummer,
H. Wang,
N. Harland

2021

Determining viable small-scale renewable technologies for the Spruce Harbour Marina clubhouse in False Creek, Vancouver.

False Creek South Neighbourhood Association

N. Cheng,
F. Tsui,
E. Suchy

2021

Creating a Natural Asset and Ecosystem Services Management Framework that Centers Climate and Social Justice for the City of Vancouver.

City of Vancouver / City Studio

K. Macdonald,
S. Marohn,
X. Zhang

2021

Developing a Biodiversity and Climate Change Based Educational Plan for use in the Riley Park Community Spring Break Program to Instill long lasting Ecological Literacy.

Little Mountain Neighbourhood House

K. Clarke,
B. O'Callahan

2021

Mapping climate mitigation, adaptation, and justice initiatives and climate policy in MetroVancouver.

SPEC / CALP

C. Weinhagen,
V. Knoblauch,
I. Francis

2021

Mapping the distribution of endangered mosses in BC to inform sampling and assess regional effects of climate change.

UBC Herbarium

J. Haw,
M. Loveland,
L. Wang

2021

Electrifying Change: An Analysis of Electric Vehicle Charging of Multi-Residential Units in Vancouver.

2 Degrees Institute

S. Thornton,
O. von Wahl

2021

Assessing Avian Biodiversity in the City of Surrey.

Birds Canada

E. Le,
M. Stewart,
A. Wohlers

2021

Holistic Sustainability Indicators for Small Scale Agricultural Practices.

LiteFarm / UBC Centre for Sustainable Food Systems

M. Bozik,
C. Pan,
M. Thormeyer

2021

Reed Canary Grass in Stanley Park: Mapping and Mitigating the Spread of the Invasive Plant.

Stanley Park Ecology Society

J. Brown,
M. Pope,
J. Shepard

2021

Assessment of Factors Contributing to Poor Chum Salmon Returns in Spanish Bank Creek.

Spanish Bank Streamkeepers

M. Yu,
R. Hao

2021

Analysis of the Progress of Ecological Restoration Efforts in Pacific Spirit Regional Park

Metro Vancouver

J. Lin,
M. Marcus,
T. Cui

2020

Electrification of the Sunshine Coast Transit System: A Feasibility Study.

2 Degrees Institute

Z. Zhang,
P. Zhang,
Q. Lyu.,
Y. Tang

2020

Evaluating municipal waste management strategies between Vancouver and world cities.

Society Promoting Environmental Conservation

L. Faulkner,
M. Liu,
E. Newman

2020

Increasing Riparian Habitat and Ecosystem Function in Lost Lagoon through Shoreline Restoration.

Stanley Park Ecology Society

J. Cheng,
J. Mancer,
R. Hernandez

2020

Modelling the Impacts of Sea Level Rise on Suitable Dunlin Habitat in the Fraser River Delta.

Abstract Accepted: Salish Sea Ecology Conference, April 2020; Cancelled due to Covid-19)

Birds Canada

R. Huang,
X. Huang,
Y. Xia

2019

Assessing the Policies and Processes of Waste Management in Four Canadian Cities.

Society Promoting Environmental Conservation

T. Kapoor,
G. Singh,
R. Park

2019

Place-Based Learning (PBL) at Riley Park: An Outdoor Educational Tool for BC Schools.

External Funding: CCEL Community Partnership Grant

Little Mountain Neighbourhood House

M. Poblacion,
G. Sharma

2019

Energizing the Public: Designing and Installing a Renewable Energy Demonstration in Riley Park.

External Funding: CCEL Community Partnership Grant

Society Promoting Environmental Conservation

O. Hester,
E. Milne,
K. Wang

2019

A spatial analysis of terrestrial salamander distributions and disturbance levels in Pacific Spirit Regional Park.

Metro Vancouver

F. Ramsay,
X. Tang,
Y. Yuan

2018

Beyond Styrofoam: A Life Cycle Analysis and Eco-Efficiency Portfolio of Single-Use Containers (Polystyrene, Plastic, Biodegradable Plastic, Paper, and Aluminum).

Society Promoting Environmental Conservation

L. Munwar,
M. Niyaz,
K. Sano

2018

Do Ponds on UBC Campus play a role in the well-being of Individuals?

UBC SEEDS

M. Gray,
R. Lewko

2018

The Impact of Experiential, Research- and Community-based Learning in Herbaria on First-year University Students.

UBC BIOL121 / UBC Herbarium

C. Deduque,
J. Huynh

2018

Physical Literacy and Nature Exploration (PLANE): Enhancing Connections Between Families and Nature.

Little Mountain Neighbourhood House
EOSC 445
EOSC 445 "Engineering Design Project" is a capstone course for upper-year geological engineering students who work in small teams to solve complex, open-ended design challenges supplied by volunteer Project Sponsors from industry. Click the accordion below for a summary of recent projects.