Sounds of Earth: EOAS scientists collaborate with the School of Music
For the past six months, members of the EOAS department have been working closely with UBC's School of Music on the collaborative project, "Sounds of Earth". Catalyzed by a visit from the quintet Axiom Brass in October 2021, graduate students and researchers came together with a student composer and group of student musicians to create a piece expressive of their research. For many, it was an entirely new way of communicating science.
"I'm used to communicating one on one with audiences, so this experience has definitely been different" says Ruth Moore, working with fellow scientist Rachel White and composer Ben Ledocohwski on a piece entitled "Three Degrees". The pair's collaboration garnered media coverage in national and local news outlets. Ruth, an MSc student, studies polar amplification and focuses on changes that global warming causes on the hydrological cycle in the Arctic. "Music is one of the most emotive art forms, in my opinion, and it has been really fun" she reflects "but also challenging, thinking of ways in which we can use music and science together to bring forward a message about climate change."
Communicating through music helped some groups express the heightened stakes of climate affects like glacial retreat, as heard in "Glacial Suite", a piece composed by Ashley Seward in collaboration with Serena Formenti and Christina Draeger. Other groups explored how the mechanics of music can express minutiae of the scientific process. The piece "Fragmenta" uses overlapping musical structures that move from disjointed disorder to joyful melody, representing the inversion processes that allows geophysicists to pull useful patterns from seemingly chaotic data. Joseph Cabriotti, who worked with the piece's composer Mariah Mennie, notes that he was surprised to find that inversion is also a specific musical technique; "finding the common ground between these two seemingly unrelated fields made it easier to communicate ideas between them."
Translating geological or atmospheric processes into the equally complex language of music proved an exciting challenge. Annie Borch and Henry Crawford, working with composer Athena Loredo, grappled with how to express the scale of geologic processes in their collaborative piece, "Tuya". "Taking tens of thousands of years of glacial and volcanic history and condensing it into a six-minute piece is challenging" Annie reflected, "we wanted to accurately express that timescale, but make sure the piece still retained a compelling musical form." The collaboration proved to be a great lesson in translating effectively between scientific constraints and musical conventions.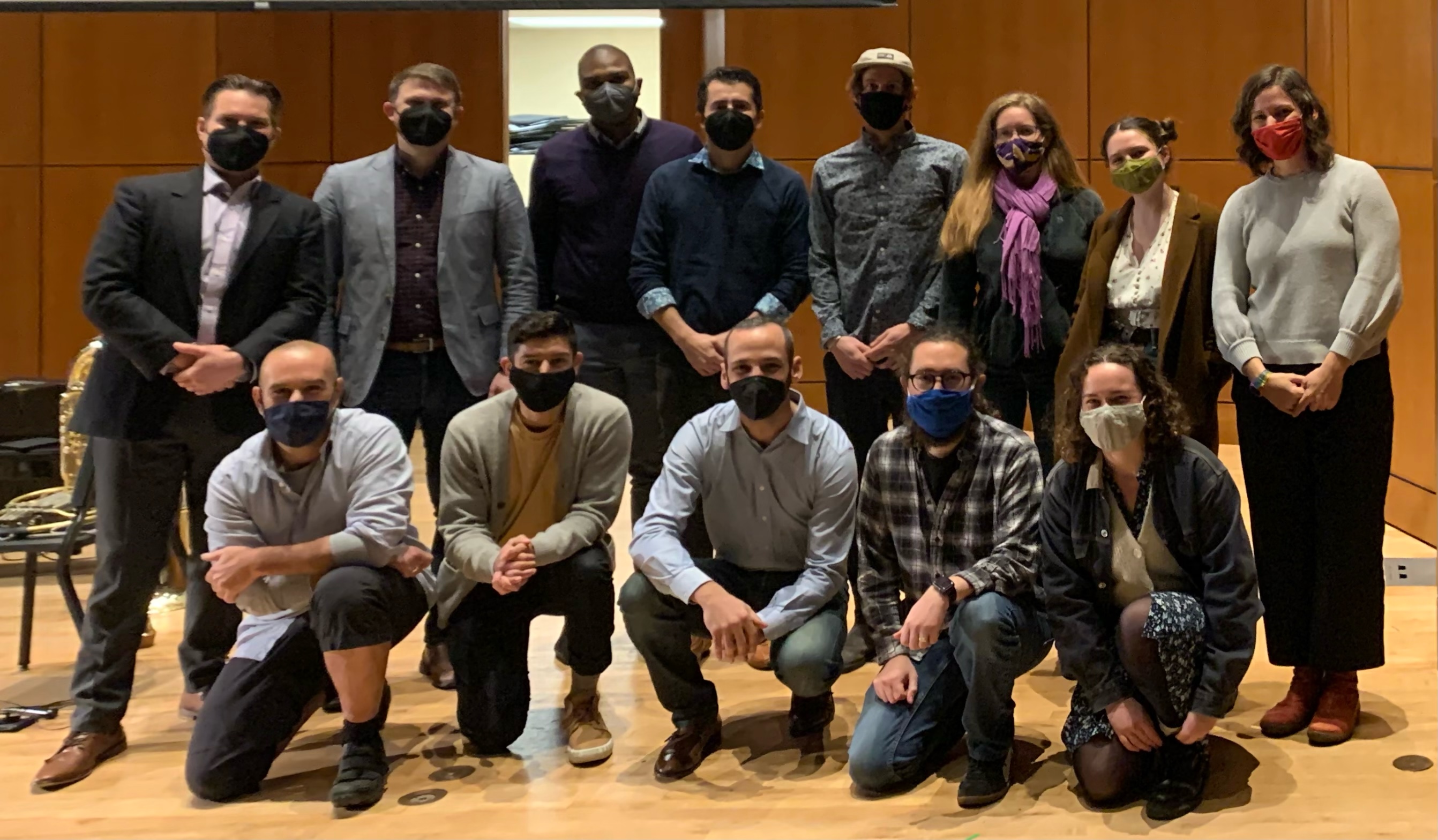 Scientists and musicians first meet at a collaboration fair hosted by Axiom Brass in October
Working with the School of Music allowed some scientists consider their own research. Johan Gilchrist worked with composer Bahar Tahari on the piece "700°C The Valley of Ten Thousand Smokes", a piece that blends the sounds of the brass quintet with field recordings to describe the eerie build up and onset of the devastating 1912 Alaskan eruption of Novarupta volcano. "I've learned that recording the sounds of the natural phenomena I study is incredibly valuable and worthwhile" Johan remarked, "in fact, recording everything I observe with all my senses could prove useful for communicating my research in the future."
Composers, musicians, and scientists came together to share the final musical pieces at the Chan Center on April 19th. After the successful night of performances, the minds behind the collaboration - EOAS's Kirsten Hodge and the School of Music's Valerie Whitney - are looking forward to reprising the project next year.
To read more media coverage on the collaboration, check out the following links:
Glacier Media via North Shore News, Castanet, Vancouver is Awesome, New Westminster Record, Alaska Highway News, Tricity News, Pique NewsMagazine, Richmond News, Delta Optimist, Sechelt / Gibsons Coast Reporter, Dawson Creek Mirror, Burnaby Now