New in EOAS: Jason Yeung – Assistant Professor of Teaching
Check out our New in EOAS interview with Jason Yeung, Assistant Professor of Teaching in Geological Engineering who just started his position this September. Welcome Jason!
Q: Would you like to tell us a bit about yourself?
JY: I am a product of UBC's Geological Engineering program where I completed my undergrad and graduate degrees. After my undergrad I relocated to Edmonton where I worked in consulting, primarily in the Canadian sub-arctic region. Then I made my way back to Vancouver where I stayed in consulting and worked in the underground, tunnelling, and trenchless industry.
I was born and raised in Surrey with my two older sisters and a set of hard-working parents. My parents moved to Canada in the 80s from Brunei as ethnic Chinese immigrants. My sisters and I are first generation-university students, so the education my sisters and I received at UBC is something my family is very proud of.
Q: Is there any difference in the UBC Geological Engineering program between the time when you were in it and now?
JY: I think the students now are really bright and have a strong sense of awareness. You can see how they have a knack for using technology and how it is integrated into the way they think. The Geological Engineering program is great as usual, where students can build the fundamentals of geological engineering and the stepping stones to achieve whatever their goals are.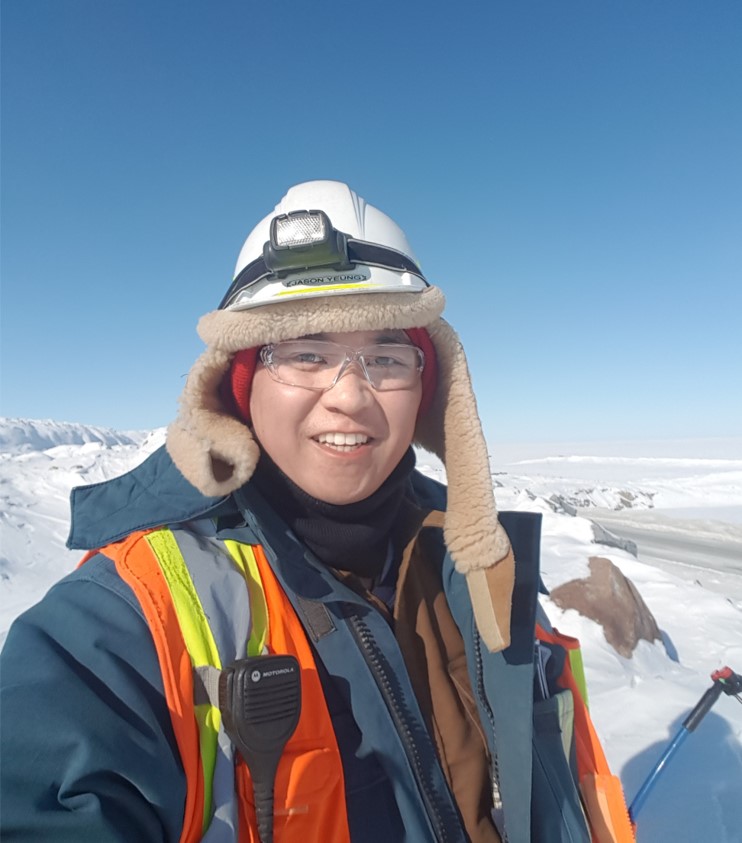 Q: What do you consider your major contributions and/or accomplishments so far?
In my practicing career, some of my proudest contributions are the range of projects I have been involved with. In the sub-arctic region, I was a part of some neat projects like setting up and operating from scratch an advanced soil testing laboratory in a remote region, to being the resident field engineer for the construction of a frozen core dam. Locally, I am proud to have been involved in projects that directly benefit the community, such as designing and constructing tunnels and river crossing forcemains in the Lower Mainland to improve seismic resiliency in our water distribution network and expansion of wastewater treatment plants.
But to be honest, being in this current position and being able to have this conversation is a big accomplishment in my personal and professional life. Being in a position where I can influence the next generation of geological engineers is a big responsibility. People often ask me if this is my "dream" job, however being in this position often felt outside the realm of reality for me, so I often say this is my "fantasy" position.
My role here enables my passion for helping and mentoring others. I have always been known as "the old man" in a group because I'm an open book on sharing my experience and knowledge with those wanting to listen. I have naturally gravitated towards mentoring people from less advantaged groups or people looking for advice navigating the system, since I am able to see their perspective from experience. With my role now, I am excited to interact with students and people from all walks of life.
Q: How is it different for you as a professor compared to when you were a student in the program?
JY: I think there are some differences, but I also see more similarities between being a student and a professor. As a junior faculty myself, I am still a student learning and honing my craft of teaching and constantly wanting to improve myself, so I feel fortunate to be in a department that has many great resources and teachers to still learn from.
I think the primary difference between being a student before and a professor now is that as a student you take a range of courses and try to get by. As a professor, you focus on your courses for the semester, however each course requires more effort, attention to detail, and oversight of things behind the scenes that you don't see or think of as a student.  
Q: Speaking of courses, what courses are you teaching this term and in spring?
JY: I am currently co-teaching EOSC445—Engineering Design Project with Susan Hollingshead, which is the 4th year geological engineering capstone project that runs over two semesters. This course is a platform for students to bring together all the fundamental and foundational knowledge they've accumulated through their undergrad and apply it to real industry projects.
The other course I am teaching this semester is EOSC 330—Principles of Geomorphology. I am doing paired teaching with Scott McDougall and Brett Gilley. It has been a pleasure working with those two and Bean, and being able to learn from both their teaching styles.
In the spring term, I will also be co-teaching EOSC 240—Site Investigation with Susan Hollingshead. And next year, I'm planned to co-teach EOSC 210 – Earth Science for Engineers with Erik Eberhardt, which is a course where second-year engineering students even outside of the Geological Engineering program will get their first exposure to earth science.
Q: What do you hope the students who come to your class can come away with?
JY: Besides explicit learning goals, I hope that outside the classroom students can go outdoors and further appreciate the beauty of earth processes and the natural environment that surrounds us, especially in Vancouver.
In EOSC 240, I am excited about showing students how to manage geologic uncertainty. Imagine we are looking at a vast piece of land: What is this ground made from and how variable is it? How can we realistically gather information to characterize it? How can we put numbers to geology and assign design parameters to build on it? I hope they can take that philosophy of managing uncertainty and apply it to other aspects as well, like navigating through uncertainties of life.
In EOSC445, I hope that students can use this course as a platform where they can experiment with engineering design and team dynamics, and ultimately feel prepared for their journey after graduation.
Q: What research topics are you excited about now?
JY: My current interests are in engineering pedagogy and curriculum and course development in the geological engineering program. I want to make sure our program is constantly evolving and developing with current societal and industry trends, and to find ways to bring those concepts innovatively and effectively into the classroom. One of my other focuses is to constantly seek areas or ways that teachers and instructors can cultivate a sense of belonging for students in the classroom and the whole university experience. I have been exposed to many great resources from Skylight and CTLT on inclusive teaching practices and creating positive classroom climate, and I hope to be able to further contribute to that area.
Q: What do you hope to achieve in the next few years at EOAS?
JY: I hope to be a part of developing and evolving the geological engineering program. The geological engineering group is having preliminary discussions on creating a specific geological engineering field school, so I am looking forward to being involved in that. Besides that, I hope to bring more awareness on the role geological engineers have on societal trends, like climate justice or equity, diversity, and inclusion. Over the years, I hope to be seen as a figure or resource in helping students navigate through their programs and careers. Overall, I am excited to be in the university environment where I'm encouraged to still be a student, be innovative, and cultivate an environment that promotes learning and growth.
Q: What do you do outside of work?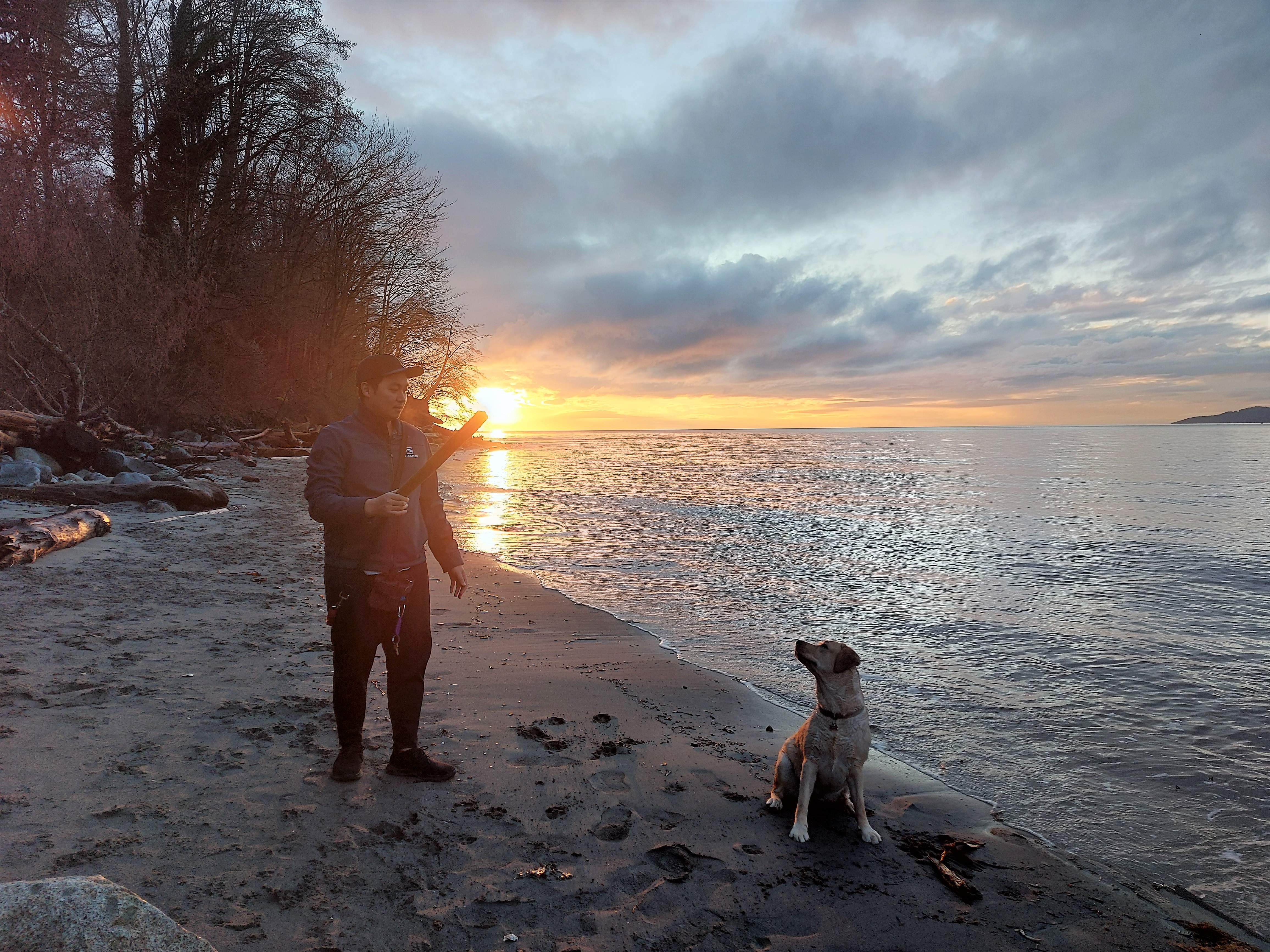 JY: I am a foodie. The Metro Vancouver region is a great place to be a foodie because there is so much diverse food; it has any type of cuisine you can think of. Besides eating, I like collecting vinyl records. I'm always amazed when I put a record on and drop the needle, how a black plastic disc can reproduce such a vibrant sound.
During COVID, I picked up a few hobbies and one of them being cycling. I enjoy cycling because I find it a means of moving meditation. Whenever I'm on my bike, I forget about stress and have a moment to be present. My second COVID project is my two-year-old Labrador retriever, who makes my life interesting every day. She is just a big ball of energy! Her name is Ava and we named her after the artificial intelligence robot from the movie Ex Machina. On the weekends, you can find me on a long walk in Pacific Spirit Park, going for a bike ride, or spending too much time figuring out what to eat!