These research projects are instructor-guided collaborations between student teams and community partners on community-based environmental science. Undergraduate research teams articulate their project questions and goals, devise methods, conduct research, and communicate their results in final project reports showcased here.
---
Mapping Climate Initiatives and Policies in Metro Vancouver
Katherine Eadon-Clarke, Teresa Trihn and Brendan O'Callahan
With SPEC (Society Promoting Environmental Conservation) and UBC CALP (UBC Collaborative for Advanced Planning)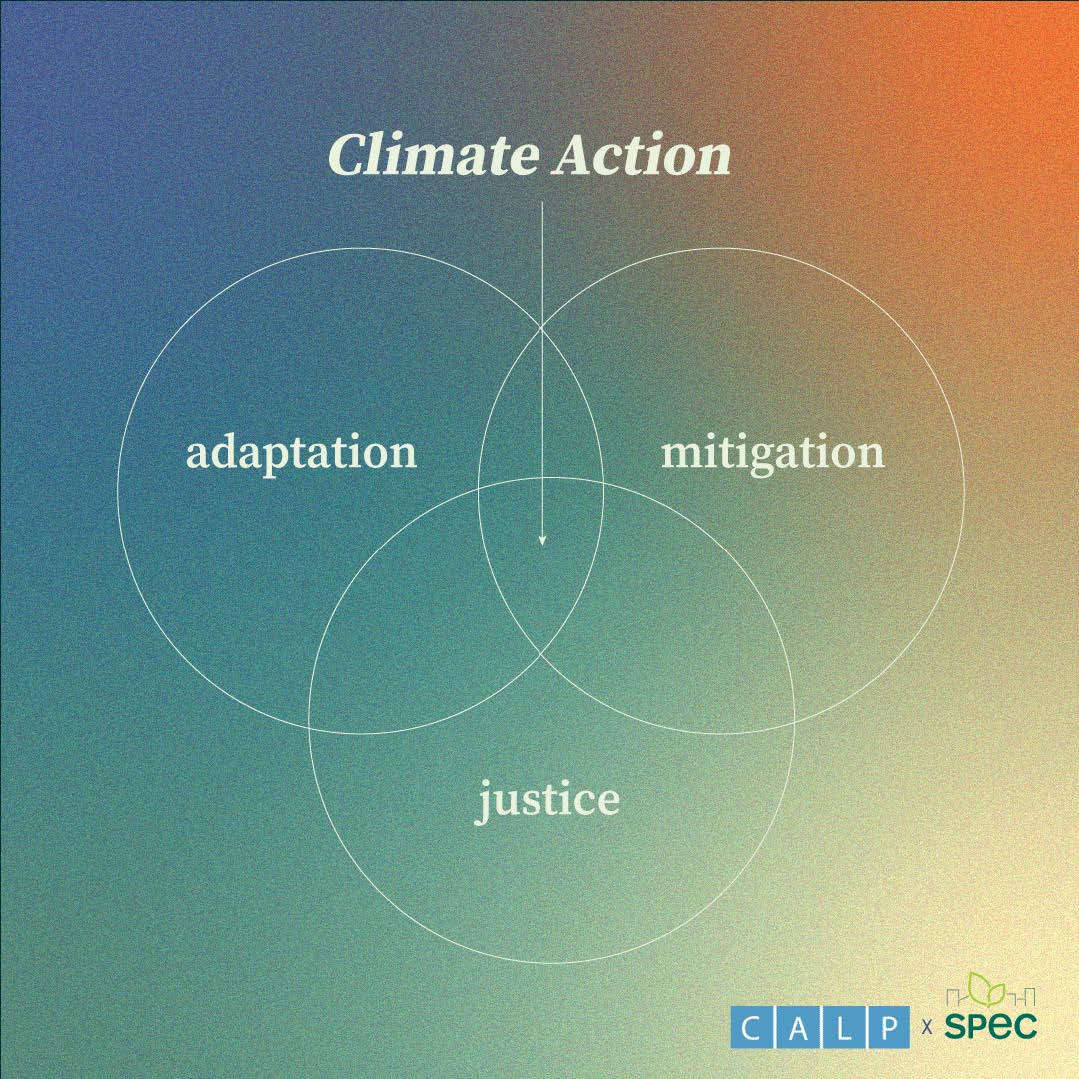 ---
Research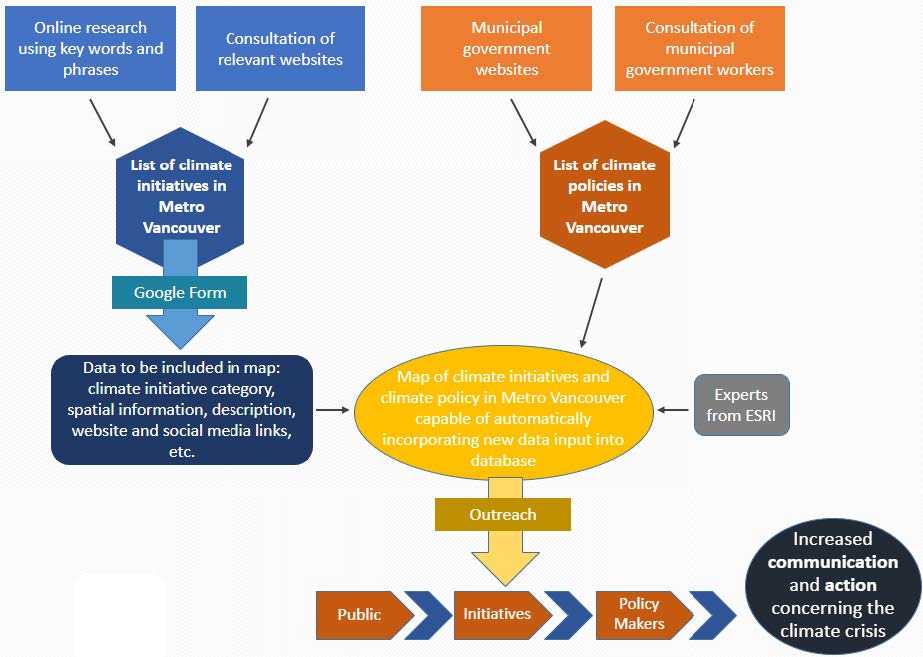 A succinct visual representation of the project methods.
Though many policy-makers and initiatives are prioritizing climate action and justice in Metro Vancouver, ease of access to this information and collaboration between initiatives, policy-makers, and the public can and must be strengthened. In 2019, a group of ENVR 400 students generated a map in collaboration with the Society Promoting Environmental Conservation (SPEC) and the Collaborative for Advanced Landscape Planning (CALP) to showcase climate mitigation initiatives within the city of Vancouver. This map became one of two Collective Climate Mobilization Maps (CCMMs) created this year; the Initiatives CCMM has been populated with additional climate mitigation initiatives, along with climate adaptation and justice initiatives, and the Policies CCMM has been populated with climate policies. Both CCMMs now cover all Metro Vancouver municipalities. In our project, research was conducted to generate a list of initiatives, and responses to a Google Form sent to these initiatives supplied the information presented in the Initiatives CCMM (descriptions of initiatives, where initiatives are active, and website and social media links). The CCMMs will improve ease of access to information on local climate initiatives and policy; this can increase both climate knowledge and climate action in Metro Vancouver by connecting climate initiatives and increasing climate dialogue between the public, organizations, and policy makers.
We are excited to help viewers easily find information on what Metro Vancouver is doing to improve the city's sustainability as well as initiatives they could volunteer and support. The online maps will also be updated with initiatives and policies over time, so the project will continue to be relevant for the long-term future. It has been interesting to research the ways that organizations have been addressing climate change and we hope to provide more exposure to the climate initiatives they have created.
Check out our Collective Climate Mobilization Map of Metro Vancouver, and our project report for more information.
---
---
Can species distribution modelling improve the climate threat assessment of at-risk mosses in Canada?
Isla Francis, Victoria Knoblauch, Caleb Weinhagen and Emma Menchions 
With Dr. Karen Golinski (Curator for the Bryophytes collection at the UBC Herbarium)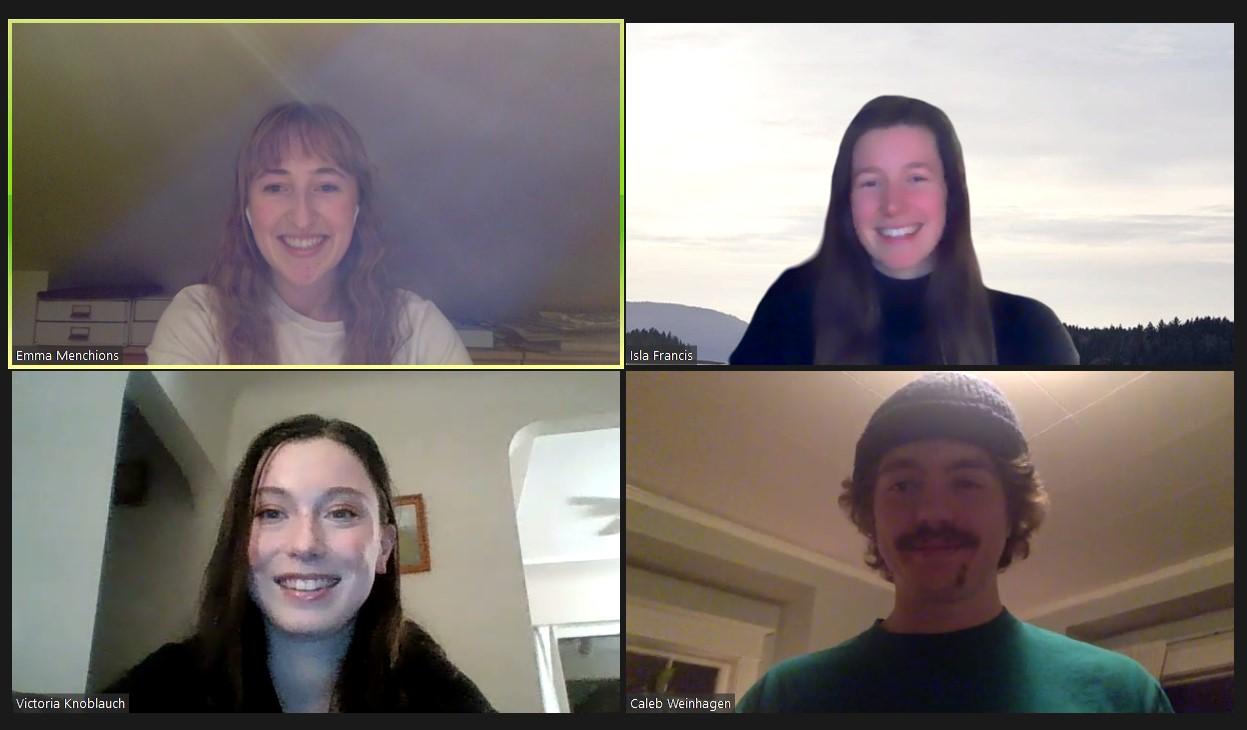 ---
Research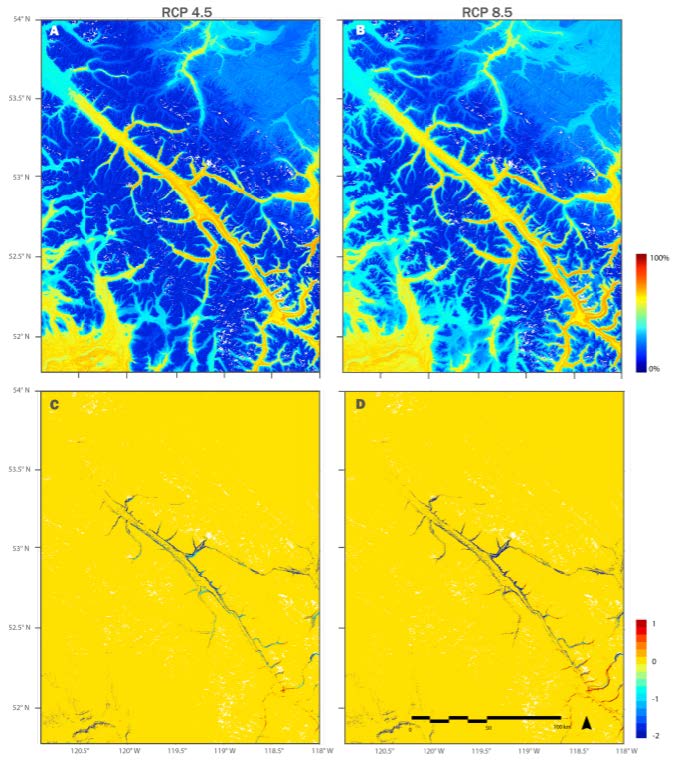 Predicted potential distribution of Bartramia halleriana in 2085 under RCP4.5 (A), RCP 8.5 (B) based on bioclimatic and topographic variables and difference by pixel maps for comparison (C-D).
The highest diversity of rare and threatened mosses in Canada is found in British Columbia, yet their distribution and response to climate change remains largely unstudied. Reduction in areas of suitable climate poses a significant risk to bryophytes, given their environmentally sensitive nature. The BC Conservation Data Center (BC CDC) and Committee on the Status of Endangered Wildlife in Canada (COSEWIC) are government bodies that assess risks facing endangered bryophytes. The rankings currently focus on localized threats; however there is a significant need for climate modelling to highlight the macro risks affecting persistence of at-risk bryophytes across BC's landscape.  
Our project models the species distributions of five at-risk mosses to determine the effects of future climate change on moss habitat suitability across B.C. We use species distribution models, and projected climate data under two IPCC  scenarios (RCP 4.5 and 8.5), to produce a series of maps showing visual patterns of how the distributions of at-risk moss species may respond to climate change. Documentation of the process and R-scripts were shared with COSEWIC and the BC CDC to improve the assessment of climate threats in the extinction risk ranking processes and to consider the potential for species distribution models to be used in future analyses.  
We are excited that the project will lead to improved threat assessments for species of mosses and other flora at the provincial and federal level. The work will help us, the larger scientific community, and government bodies to better understand how local flora diversity may be threatened by climate change in a more real and quantifiable sense. We are also excited to raise awareness for these unique, threatened and diverse moss species in BC. Climate change is very central to our work as we investigated how at-risk moss species respond to changing conditions over the next century. We hope that the research will better quantify the threat of climate change for moss species to inform conservation policy in the future. 
Check out our project report for more information.
---
Ecological literacy in Riley Park: Community accessible lesson plans for elementary school aged children
Samantha Marohn, Kelley MacDonald, Shuhong Cao and Xianyu Zhang
with Little Mountain Neighbourhood House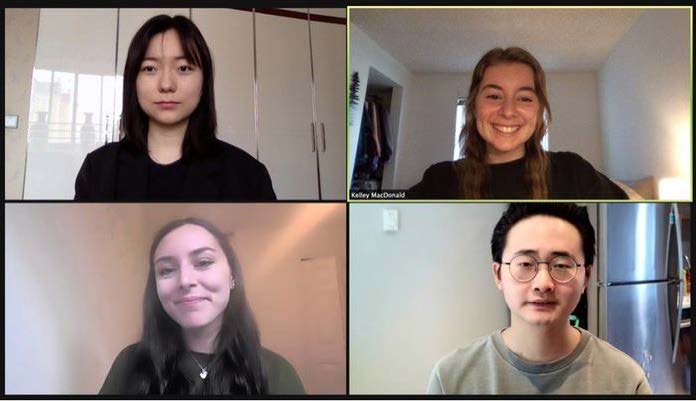 ---
Research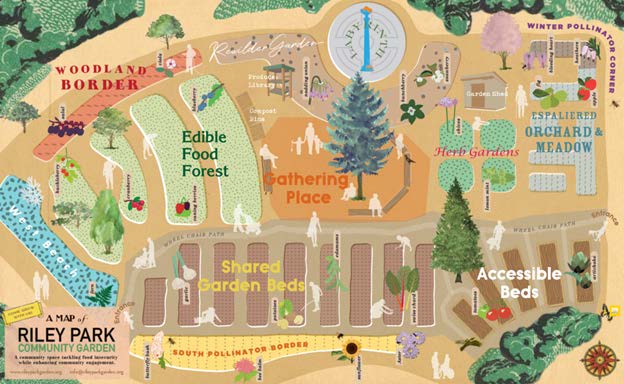 Our objective for this project was to answer the question: How can Riley Park be used as a venue for children to develop ecological literacy through an hour-long activity? We used information on the ecology of the park combined with research into effective means of psychologically-supported environmental education. By inspiring an understanding and appreciation of the ecology, geology, and history of Riley Park, education can stimulate a relationship between students and the natural world. This project is framed in the span of an hour-long Spring break program to be delivered to a group of around twenty students aged 7-12. Through a brief lesson plan, we intend to leave students with a positive perspective on the natural world around them.
The most exciting part of our project was the opportunity to design programs that play a part in structuring the first steps to young people's understanding of environmental science. We were also able to provide advice on delivering this information in a way that fosters a positive relationship with science and a hopeful outlook on environmentalism. The fact that this plan will be delivered to young Vancouverites is also exciting; as environmental science students, we understand the significance of such an experience in fostering an interest in the natural environment from a young age. 
Check out our project report for more information.
---
Greening the Marina: A Roadmap to Renewable Energy for the Clubhouse at Spruce Harbour Marina
Natalie Varga, Natasha Harland, Haoyue Wang, and Lauren Kummer
With False Creek South Neighbourhood Association and the Greater Vancouver Floating Home Co-operative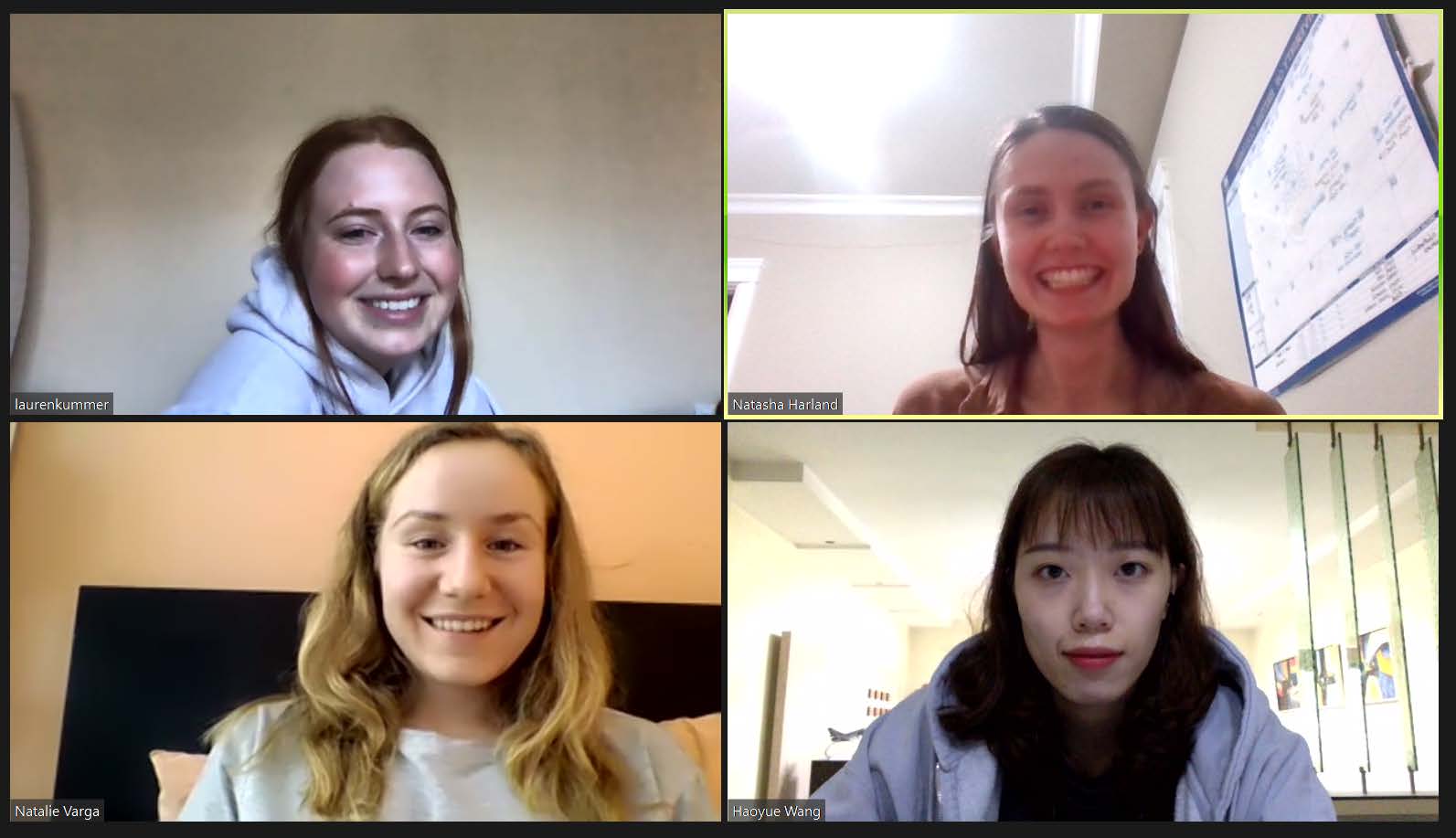 ---
Research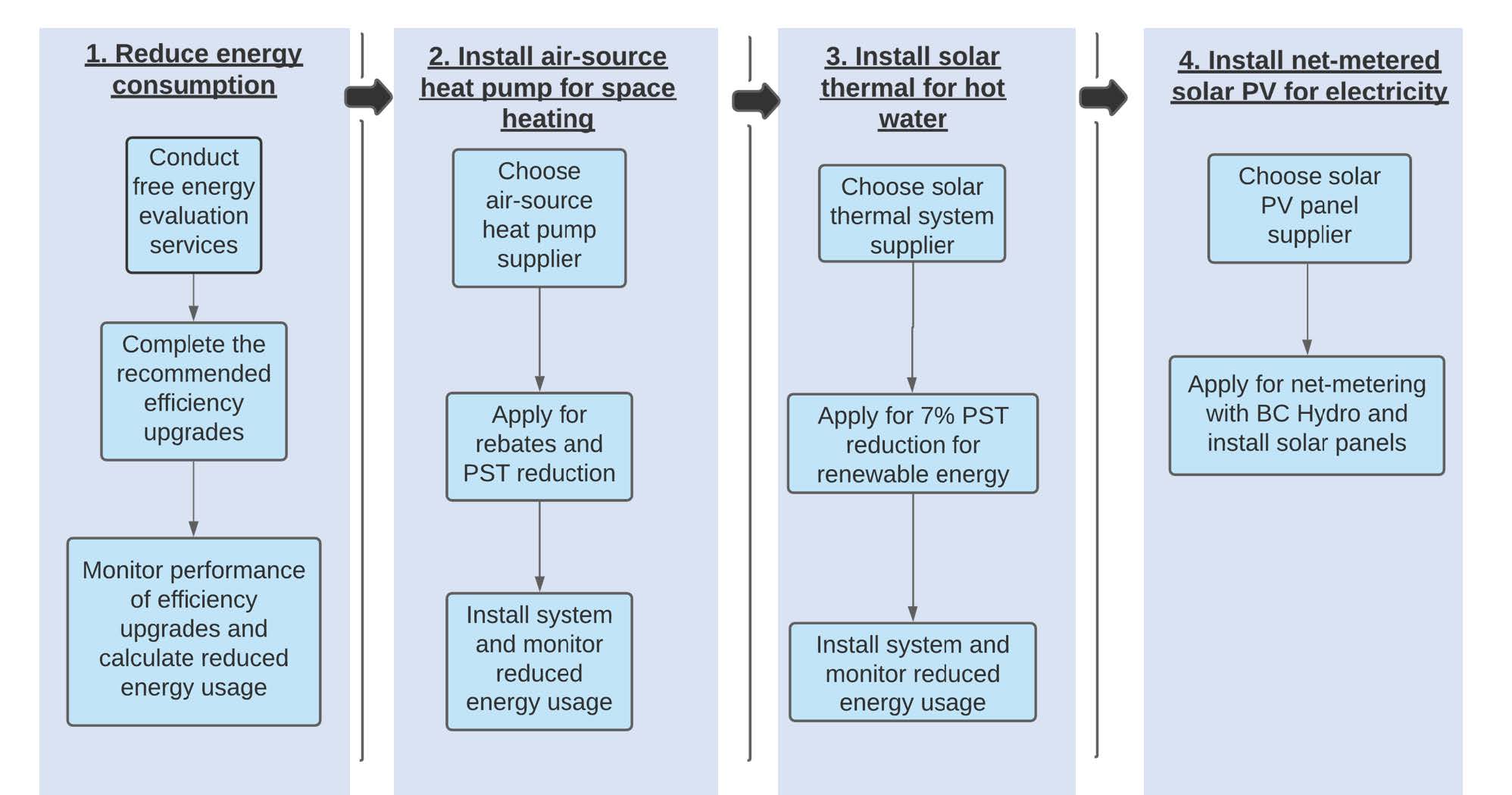 Recommended 4-step roadmap for Spruce Harbour Marina to reduce their energy consumption and greenhouse gas emissions and generate energy for the clubhouse.
Our project assesses the most viable small-scale, renewable energy technologies that can provide space heating and hot water for the clubhouse at the Spruce Harbour Marina in False Creek. We conducted an extensive literature review of renewable energy technologies and met with industry professionals to identify an energy system that can meet the needs of the Marina while remaining cost-effective and resilient to future climate change. We assessed the technologies based on a set of weighted decision criteria and a cost-benefit analysis to propose technology solutions that best suit the needs of the Marina. The most viable technologies identified were: air-source heat pumps, solar-thermal, and solar photovoltaics (solar PV). Our research will serve as a basis for grant applications to secure funding for the installation of a renewable energy system at the Marina. The project will also serve as an example for other communities in Vancouver to switch to renewable energy and help to decrease greenhouse gas emissions in line with the Canadian climate action goals.
 
We are excited to have the opportunity to help a community reduce their reliance on natural gas and move towards carbon-free energy sources. It has also been insightful to learn about the barriers to installing renewable energy facilities in Vancouver, and particularly for a Marina community. Our work is directly related to climate change because a successful grant application and installation of a renewable energy system at the Marina will decrease the community's greenhouse gas emissions and "carbon footprint".
Check out our project report for more information.
---
---
A Living Classroom without its Teacher: Investigating the causes of, and possible solutions for poor Oncorhynchus keta (Chum salmon) returns to Spanish Bank Creek (Vancouver, BC, Canada)
Sara Alshanteer, Mark Pope, Jessica Brown, Josh Shepherd
With Spanish Bank Streamkeepers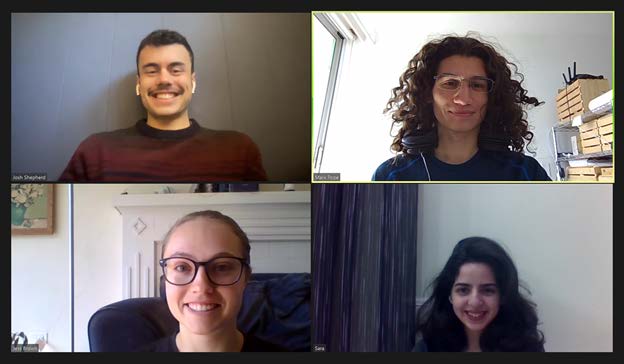 ---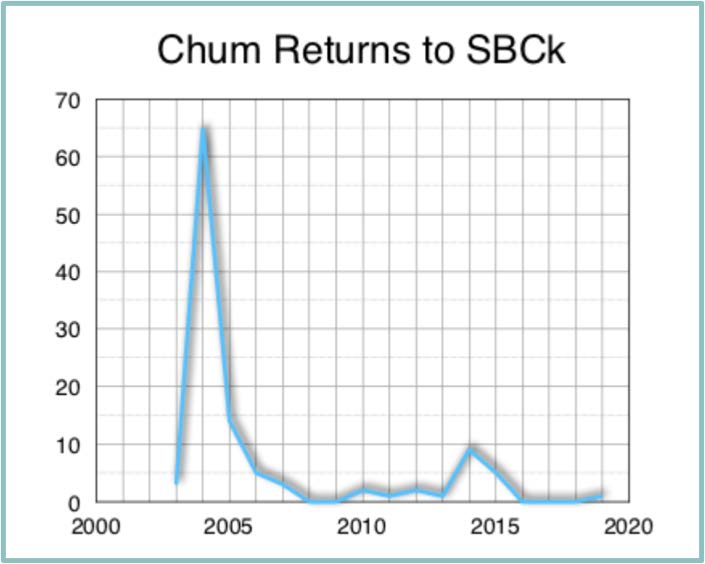 Current trends of chum returns at Spanish Bank creek.
Research
Our research project investigates the factors that are contributing to the poor Chum salmon returns in Spanish Bank Creek and identifies potential restoration strategies that could be implemented to improve salmon returns. The restoration of chum salmon will support the Spanish Bank Streamkeepers (SBSk) community outreach and school-age education programs to increase awareness about the importance of Pacific salmon to the local ecosystem. Additionally, the project updated the SBSk website (https://spanishbankstreamkeepers.weebly.com/) and provided a digital database of data recorded by the organization.
It was exciting to work on restoring one of the most iconic and important species in BC, Chum salmon. Additionally, we enjoyed contributing to a community project that will increase awareness of Pacific salmon in Vancouver, where many residents have never seen a salmon run. This topic is incredibly important for sustainability as we have seen the dramatic decline of Pacific salmon over the past few decades. Developing sustainable restoration projects will ensure that the Pacific salmon populations can thrive for years to come.
Check out our project report for more information.