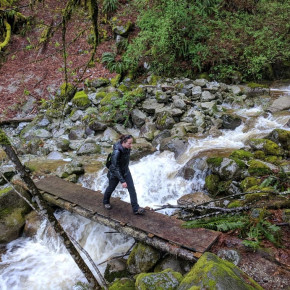 Kate Smith
PhD Geological Sciences
International Doctoral Fellow
Under the supervision of Dr. Dominique Weis, I am exploring the impacts of environmental pollution using honey bees as bioindicators. Trace element and isotopic fingerprints of honey samples (and other bee products) from the greater Vancouver area can serve as a proxy for chemical snapshots of ~2 km-diameter regions (the range of a typical honey bee). Thus, we can assess small-scale variations in trace elements, and their isotopes, of particular interest to pollution processes.
Research Interests:
Applications for traditional and non-traditional isotope systems: particularly new applications for public health
Method development for isotopic analysis of environmental and clinical matrices
Multicollector mass spectrometry (MC-ICP-MS, TIMS)
Isotope and high temperature geochemistry
Other/past research interests: igneous petrology, uranium-series geochemistry, and geochronology
2008 BSc. Chemistry, Michigan Technological University
2010 MSc. Geochemistry, University of Wisconsin-Madison
2011-2014 Senior Chemist, Wisconsin Veterinary Diagnostic Laboratory, Univ. of Wisconsin-Madison
2014-2017 Senior Chemist, Wisconsin State Laboratory of Hygiene, Trace Element Clean Lab, Univ. of Wisconsin-Madison
2017-present Doctoral Student, University of British Columbia
Peer-Reviewed Publications:
Smith, K.E., Weis, D., Scott, S.R., Berg, C.J., Segal, Y., Claeys, P. 2021. Regional and global perspectives of honey as a record of lead in the environment, Environmental Research, doi: 10.1016/j.envres.2021.110800.
Smith, K.E., Weis, D., Chauvel, C., Moulin, S. 2020. Honey Maps the Pb Fallout from the 2019 Fire at Notre-Dame Cathedral, Paris: A Geochemical Perspective, Environmental Science and Technology Letters, doi: 10.1021/acs.estlett.0c00485.
Smith, K.E., Weis, D. 2020. Evaluating Spatiotemporal Resolution of Trace Element Concentrations and Pb Isotopic Compositions of Honeybees and Hive Products as Biomonitors for Urban Metal Distribution, GeoHealth, doi: 10.1029/2020GH000264.
Li, M., Weis, D., Smith, K.E., Shiel, A.E., Smith, W.D., Hunt, B.P.V., Torchinsky, A., Pakhomov, E.A. 2020. Assessing lead sources in fishes of the Northeast Pacific Ocean, Anthropocene, doi: 10.1016/j.ancene.2019.100234.
Scott, S.R., Shafer, M.M., Smith, K.E., Overdier, J.T., Cunliffe, B., Stafford, T.W., Farrell, P.M. 2019. Elevated lead exposure in Roman occupants of Londinium: New evidence from the archaeological record, Archaeometry, doi: 10.1111/arcm.12513.
Scott, S.R., Smith, K.E., Dahman, C., Gorski, P.R., Adams, S.V., Shafer, M.M. 2019. Cadmium isotope fractionation during tobacco combustion produces isotopic variations outside the range measured in dietary sources of cadmium, Science of the Total Environment, v.688, p.600-608.
Smith, K.E., Weis, D., Amini, M., Shiel, A., Lai, V., Gordon, K. 2019. Honey as a biomonitor for a changing world, Nature Sustainability, 2:223-232, doi: 10.1038/s41893-019-0243-0.
Weiss, D., Lee, D., Feldman, R., Smith, K.E. 2017. Severe lead poisoning attributed to bullet fragments retained in soft tissue, British Medical Journal Case Reports, doi: 10.1136/bcr-2016-217351.
Smith, K.E., Shafer, M.M., Weiss, D., Anderson, H., Gorski, P.R. 2016. High-precision (MC-ICPMS) isotope ratio analysis reveals contrasting sources of elevated blood lead levels of an adult with retained bullet fragments, and of his child, in Milwaukee, Wisconsin, Biological Trace Element Research, doi:10.1007/s12011-016-0872-3.
Singer, B.S., Jicha, B.R., Fournelle, J.H., Beard, B.L., Johnson, C.M., Smith, K.E., Greene, S.E., Kita, N.T., Valley, J.W., Spicuzza, M.J., Rogers, N.W. 2014. Lying in wait: deep and shallow evolution of dacite beneath Volcán de Santa María, Guatemala; Geological Society, London, Special Publications, v.385, p.209-234.
Singer, B.S., Smith, K.E., Jicha, B.R., Johnson, C.M., Beard, B.L., Rogers, N.W. 2011. A geochemical and isotopic perspective on magma evolution 103-25 ka beneath Volcán de Santa María-Santiaguito, Guatemala; Journal of Petrology, v.52, n.12 p. 2335-2363.
Jicha, B.R., Smith, K.E., Singer, B.S., Beard, B.L., Johnson, C.M., Rogers, N.W. 2010. Crustal assimilation no match for slab-fluids beneath Volcán de Santa María, Guatemala; Geology, v. 38, p. 859-862.